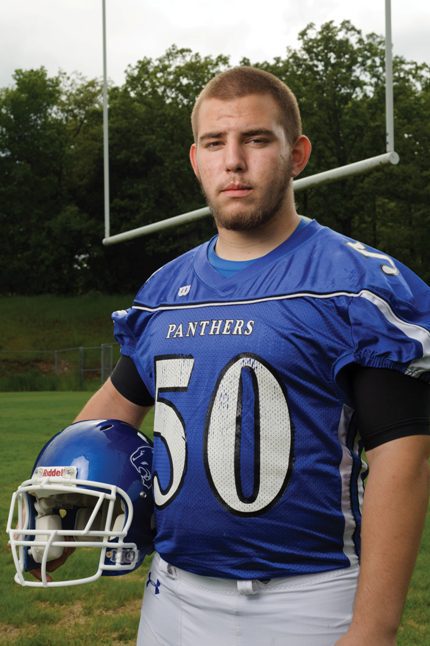 04 Nov 2015

'Unselfish' Cope leads young offensive line at Greenbrier

by Levi Gilbert


The first week of November in Faulkner County always holds a special place in the hearts of Greenbrier fans. That's typically the week that the Panthers face off with the Vilonia Eagles in what is likely the most intense Faulkner County rivalry.


This fact isn't lost on Logan Cope.


"Our biggest game of the year is definitely Vilonia," Cope said. "That's always intense. It never matters who is the better team. It's always a good game."


And this year, like it has been the case several times before, the season hangs in the balance for both teams. The winner of the game is guaranteed a playoff berth out of the 5A West. The loser most likely finishes on the outside looking in.


Cope, a senior center for Greenbrier, was selected to this year's 501 Football Team — 27 players representing all 11 counties of the 501. The team boasts the best the 501 has to offer both on and off the field. Evans was nominated by his head coach, Randy Tribble.


"Logan is a hard worker and smart player," Tribble wrote in his nomination. "He's physical and a leader of the lineman. He teaches and encourages young players, is very unselfish and cares more about the team than himself.


"Last season, he started all year at offensive center. He made pass protection calls and played very well. [He will] lead our offensive line, be a vocal leader and be the example of how hard to play and work. [We also count on him] to play defensive line and be a very good two-way player."


Cope was late to the game he loves, and his football story is the result of peer pressure gone right.


"I didn't start playing until eighth grade," Cope said. "I started later. Didn't play pee wee or anything. A couple buddies joined and said it was pretty fun, so I thought, I could probably play football. So I joined, and it's been fun."


In his senior year, Cope has been challenged by Tribble to lead a younger offensive line.


"He's a great teammate," Tribble said. "He helps younger players and goes beyond what is expected in working in the weight room or cleaning the locker room. He enjoys helping others succeed. He's a very encouraging person."


"My focus has been to get the young guys better," Cope said. "I have to lead the offensive line at center. I'm the veteran. I've played the longest. I've been working to get the young guys up to speed so that we could have a strong running game."


Cope is slightly undersized on the offensive line, but through hard work, he's become a fierce competitor for the Panthers.


"I'm one of the smallest people on the offensive line, and that can be a challenge," Cope said. "I focus on quickness, form, being aggressive and getting stronger in the weight room."


When he's not in the weight room or on the field, Cope can be found "playing a little bit of guitar" or outdoors hunting and fishing. He's found his place in Greenbrier, and he wouldn't have it any other way.


"I lived in Conway until seventh grade and then moved to Greenbrier," Cope said. "It's a lot less people, but I like it. It's smaller. You know everybody. It's just fun."


Cope and the Panthers look to close out 5A West play strong with a win at rival Vilonia on Thursday, Nov. 5.