12 Mar

Unity presentations recognized

Residents of the Unity Health Graduate Medical Education program recently completed scholarly activity presentations before their scheduled graduations.


Residents are required by the Accreditation Council for Graduate Medical Education (ACGME) to present their studies at various local, regional and national scientific meetings and conferences.


Fellow Unity Health residents who participated in the presentations and publications included James Bartley, Daniela DeVargas Boyer, Conrad Braaten, Suporn Sukpraprut-Braaten, Todd Brackins, M. Chase Cates, Don M. Carter, Cody Conard, Wesley Cunningham, Ziad Ghneim, Alexander Ghobadimanesh, Mark Haen, Ted Haskin, Jim Ingram, David Krapf, Elaine Leo, Johnny Nguyen, Razik Oumeddour, Mustafa Rayaz, Jeffrey Schlaack, Kayla Schmidt, Dustin Stanley, Danny Tran, and Debbie Waggoner.


Unity Health physicians and faculty included, Herman Clements, David Covey Scott Dicus Clark Fincher, John Henderson, Bradley Hughes, Delaney Kinchen, Jayton Lim, Dewey McAfee, Greg Mock, John Paine, Andrew Powell, Eric Robinson, Ronald Wauters and Stacy Zimmerman.


Dr. Jeffrey Schlaack and his team – Suporn Sukprparut-Braaten and Drs. Jennifer Doan, Elizabeth Underwood, Lana Gettman, Ryan Koch, Conrad Braaten and Stacy Zimmerman – won second best poster award for their clinical vignette, Spontaneous Heparin-Induced Thrombocytopenia Post-Orthopedic Surgery.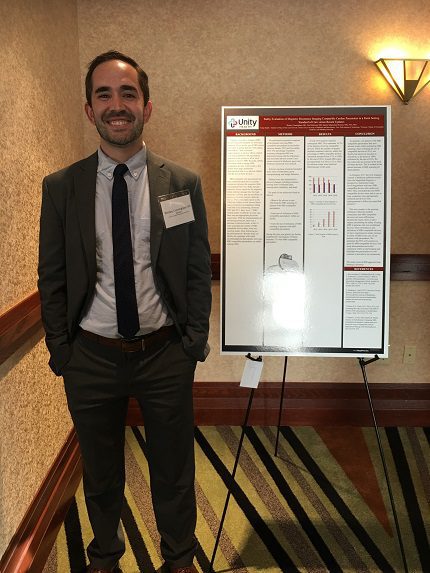 Dr. Wesley Cunningham and his team – Dr. Eric Robinson and Suporn Sukpraprut-Braaten – won third best poster for their research on Safety Evaluation of Magnetic Resonance Imaging Compatible Cardiac Pacemaker in a Rural Setting: Standard of Care versus Recent Updates.

The awards were received at the American College of Physicians Arkansas Chapter Scientific Meeting held in Little Rock.