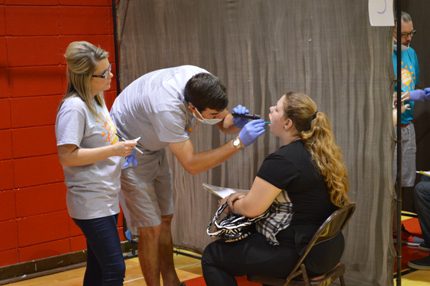 06 Jul 2017

Unity Health schedules A Day of Caring July 29

Posted at 11:27 AMh

in

News

As part of its mission to help create a healthy community, Unity Health is planning the 21st annual A Day of Caring from 9 a.m. to noon Saturday, July 29, at the Harding University Ganus Athletic Center.


What started more than 20 years ago as a grassroots effort to provide those in need with shots and immunizations for children, has grown to offer much more for our community. A Day of Caring is a community-wide outreach program designed to help the uninsured and underinsured residents of White County. Free medical, dental and eye screenings will be provided; additional services offered include haircuts, immunizations and pap exams. Items such as school supplies, Bibles, children's socks and shoes, underwear, diapers, bags of groceries and personal care items will also be distributed. Various health screenings and social service information will also be available. Please note that children must be present to receive school supplies, shoes, socks, underwear and diapers.


Also, from 10 a.m. to 2 p.m. July 29, free immunizations will be given at the White County Health Department located at 112 Brantley Road in Searcy. A parent or guardian is required to bring shot records for their children and teens in order to receive immunizations. The White County Health Department will be open for this special occasion to better serve the community with a wider variety of immunization.


Partnerships between Unity Health and community businesses and organizations, along with nurses, Unity Health associates and volunteers, are vital to the success of this outreach program. Last year, more than 450 extraordinary volunteers united to provide needed services that helped more than 1,400 people.


"At Unity Health, we look forward to A Day of Caring each year, and we strive to serve as many people as possible through this outreach," said Unity Health Marketing Director Brooke Pryor. "It is incredible to see our community unite for this important cause. We are so thankful to the hundreds of volunteers, organizations and businesses that contribute to this medical mission and help us create a health-centered community."


Unity Health welcomes individuals, clubs, churches and organizations to be involved through collecting personal care items including: shampoo and conditioner, deodorant, toothbrushes and toothpaste. Non-perishable food items are also appreciated to stock the A Day of Caring Food Bank. Donations for school supplies can include: crayons, erasers, blunt-end scissors, glue sticks, No. 2 pencils, loose leaf paper, spiral notebooks, pocket folders with brads and markers. New children's shoes donations are also appreciated.


Other ways to get involved include volunteering to help set up for the event and helping volunteer at the event. Children accompanying volunteers must be 12 years or older. Volunteers may not participate to receive services at A Day of Caring.


For more information about the event, please contact the Unity Health Marketing at 501.278.3230 or [email protected].