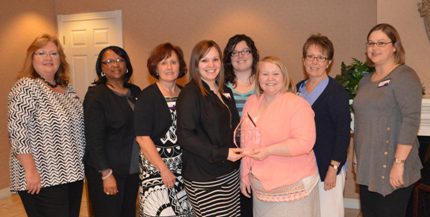 18 May 2015

Unity Health Foundation hosts donor recognition event

Posted at 12:23 PMh

in

News

The Unity Health Foundation recently hosted its annual Donor Recognition Event to celebrate the generosity of its donors and to present the Heartbeat Award.

Donations to the Foundation are currently going toward the "Miracles Happen Every Day" campaign, which provides Unity Health with funding for renovations, state-of-the-art equipment and special projects to enhance patient care in the New Life Center at Unity Health's White County Medical Center campus.


"We are truly blessed to have the support of the community and our hospital family to be able to continue bringing quality patient care and advancements in healthcare to our patients," said Cassandra Feltrop, executive director of the Unity Health Foundation.


At the donor event, Unity Health President/CEO Ray Montgomery discussed recent changes and additions to the Unity Health system. Unity Health Foundation Board Member and Chair of the Planned Gifts Committee Amy Daniels and Co-Chair of the Annual Gifts Committee member Donna Rippey shared why they give to the Foundation and the importance of giving back to the community. Concluding the evening, Feltrop presented the Heartbeat Award.


This year, the Heartbeat Award was presented to the nursing team from Oncology and Inpatient Hospice Unit at Unity Health – White County Medical Center. The Heartbeat Award was created to recognize healthcare workers at Unity Health for their high level of patient care and is presented when patients' families make contributions to the Foundation in honor of the patient's healthcare providers.


"These kind, compassionate healthcare workers care for many patients every day and are very worthy of this award," Feltrop said. "This group of nurses was recognized for their care by a previous patient's family. The patient's family remembered the outstanding care she had received and asked that gifts be made to the Foundation in honor of these caregivers in lieu of flowers."


For more information about the "Miracles Happen Every Day" campaign and updates to the New Life Center at Unity Health – White County Medical Center, please call 501.278.3191 or email [email protected].