02 Nov 2015

Unity Health celebrates survivors

Posted at 1:48 PMh

in

News

Unity Health recently celebrated the lives of breast cancer survivors and raised awareness of the disease at its 22nd Annual Barbara Montgomery Memorial Breast Cancer Awareness Luncheon. The event also focused on encouraging those currently going through the fight.


"Each October, we are honored to host this luncheon to bring awareness of how important early detection is in the treatment of breast cancer," said Brooke Pryor, Unity Health Director of Marketing. "It is our goal to provide education to our community and to celebrate the many survivors who have fought and won their battle against breast cancer."


The theme of this year's luncheon was centered on the inspirational word "Brave." Through their battles with breast cancer, survivors and those currently battling the disease become even stronger, greater women; who exemplify the true meaning of what it means to be brave.


"I am personally inspired every year by the strength, courage and bravery these ladies show every day," said Anna Brumfield, Unity Health Event and Foundation Specialist.

"Survivors truly play a vital role in the fight against cancer, because their stories can greatly encourage and help others that may be going through the same battle. We are blessed to have so many amazing women as inspirational leaders in our community."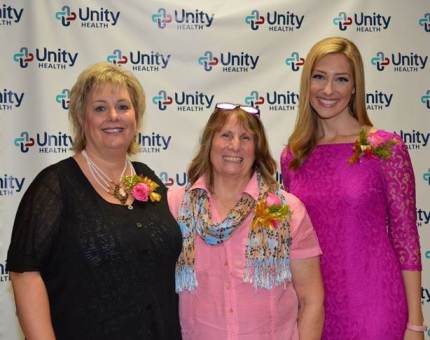 Breast cancer survivor Sharon Stringfellow, who was diagnosed with breast cancer in 1995, 2012 and again earlier this year, shared her personal story. Erin Hawley, a co-anchor for KATV LIVE at 5 and MidDay Arkansas, served as the emcee of the event and CARTI Radiation Oncologist Cheryl Payne, M.D. spoke about the importance of breast cancer awareness and health.

According to the American Cancer Society, there have been 810,170 estimated new cancer cases in 2015 in the U.S. alone. Of that number, 29 percent are breast cancer cases: more than any other form of cancer in women. Women ages 45 to 54 should get mammograms every year.

For more information or to schedule a mammogram, please call the Unity Health Oncology Clinic at 501.278.3297. For more information concerning breast cancer, please visit Cancer.org.