25 Oct 2021

United Way Turkey Trot set for Thanksgiving Day

Posted at 5:57 PMh

in

News

CONWAY — The United Way of Central Arkansas will host its 7th Annual Turkey Trot 5K and Gobble Wobble Kids Mile on Thanksgiving morning in Conway.

The family-friendly race, presented by Conway Regional Health System, is the United Way's largest local fundraiser of the year.

"We are excited to be back for a live race this year. The Turkey Trot is a fun way for families and friends to get involved in giving back to our community," said United Way Executive Director Jennifer Boyett. "Our programs and the programs of many of our local nonprofits – whether that's providing meals to senior citizens, transporting children to the Boys & Girls Club, or ensuring families in crisis have food and shelter assistance available – are dependent on community support."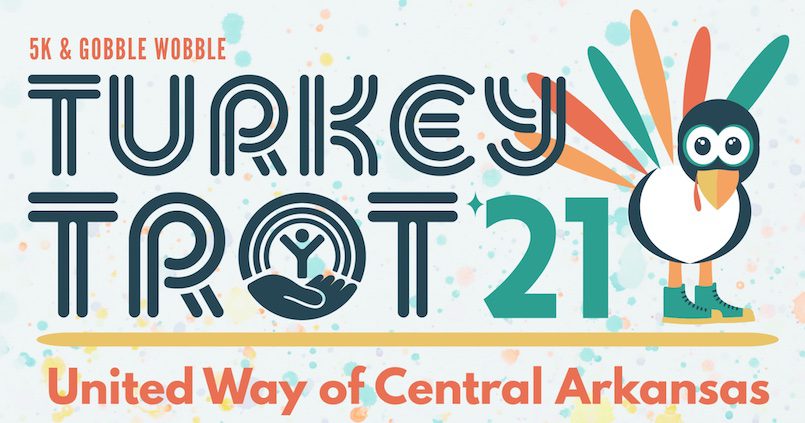 The Gobble Wobble Kid's Mile is a one-mile race open to children 10 and under and will begin at 8 a.m. on Thanksgiving morning. The Turkey Trot 5K will begin at 8:30 a.m. The live race will take place at the Centennial Valley Country Club at 1600 Centennial Club Dr. in Conway. A virtual option is also available for those who cannot be present on race day.
Early-bird registration is open online through RunSignup and can also be accessed by clicking the Turkey Trot button on the United Way's homepage at uwcark.org. Registration is $30 for the 5K and $20 for the Kids Mile through Nov. 5. Prices increase by $5 starting Nov. 6 and registration is available up until the morning of the race.
"The family-friendly holiday event would not be possible without our amazing corporate sponsors such as presenting sponsor Conway Regional Health System, gold-level sponsor Centennial Bank and many others," Boyett said.
All participants for both races will receive a swag bag sponsored by Bledsoe Chiropractic. The swag includes that includes a t-shirt, neck gaiter, a custom race bib sponsored by Smith Ford and the legendary Turkey Trot spinning turkey medal sponsored by Garcia Wealth Management.
Acxiom has sponsored the route which will include a pace car and directional signage to keep runners and walker on the right path. Additionally, Acxiom has sponsored the post-race food tent which will provide snacks to race participants.
Conway Corporation has sponsored the mid-race water station, which will provide water to 5K participants.
Additionally, Country Inn & Suites by Radisson in Conway is the official Turkey Trot race hotel. Participants can receive 10% off their stay during Thanksgiving week if they mention the Turkey Trot when they call to book a room.
Winner's Club sponsors include The Children's Clinic of Conway and Greenbrier and Car-Son Construction.
Finisher's Club sponsors include Central Arkansas Professional Surveying, First Community Bank, Adcock Family, Freyaldenhoven Heating & Cooling, Landmark CPAs, Arvest Bank, Las Delicias, SBR Professional Painting, Lovely Sunshine Learning Center and Moix RV. Fan Club sponsors include Jason Owens Law Firm.
Located in Conway, Ark., the United Way of Central Arkansas is a 501(c)(3) nonprofit that serves Faulkner, Conway, Perry and Van Buren counties by providing programming and grants that foster a greater quality of life through initiatives focused on education, health and financial stability.
The following organizations are current United Way of Central Arkansas grant funded partners: Bethlehem House, Boys & Girls Club of Faulkner County, Children's Advocacy Alliance, CAPCA, Community Service Inc., Conway County Center for Exceptional Children, Faulkner County Council on Aging, Milestones, Inc., Morrilton Human Relations Council, and Rise House.