16 Aug 2023

Underclassmen shine at first scrimmage

CONWAY — The University of Central Arkansas knocked out more than 100 total plays last Saturday morning in a  scrimmage on The Stripes at Estes Stadium, the first scrimmage work this fall for Coach Nathan Brown's Bears.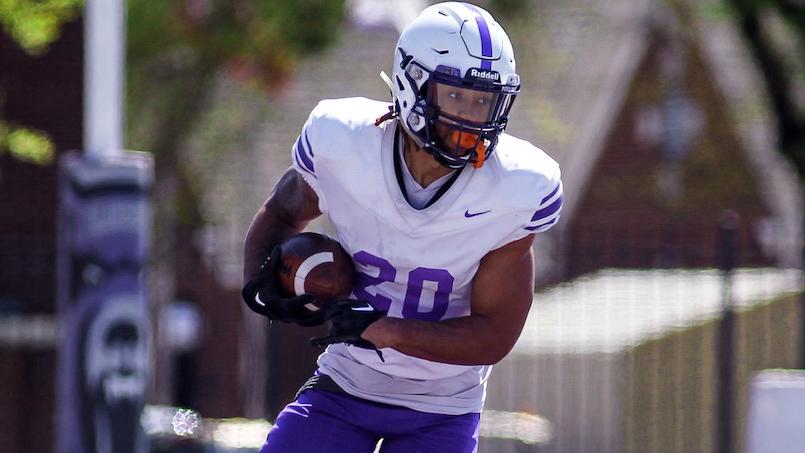 "It was good to get out and get our first live work of fall camp," said Brown, "and also good to get in front UAC (United Athletic Conference) officials for the first time this fall as well. We had a good day with close to 100 snaps of offense and defense and another dozen or so snaps of special teams. 

"We saw a lot of improvement over the first week-plus of practice but any time you put the ball down and have live snaps you see some stuff get exposed."
One of those things was penalties, according to Brown.

"We had a few too many penalties on offense during the scrimmage," he said. "We have to limit that so we don't play behind the sticks. I thought defense did a good job creating several turnovers in the scrimmage as well. We gave up a couple deep balls in the scrimmage but that is going to happen from time to time. We played the run very solid on defense as well."

Brown ticked off a fairly long list of individuals who either stood out Saturday or during prior practices.

"One individual that stuck out from the scrimmage on offense was (redshirt freshman) Isaiah Broadway at running back," Brown said. "We held Darius (Hale), ShunDerrick (Powell), and Kylin (James) so he got a bulk of the carries. (Sophomore) Kam Robinson had a good day at wide receiver and (junior) Trustin Oliver had a big touchdown catch. 

"(True freshman) Malachi Henry from Van Buren is a young wide receiver that keeps flashing. (Sophomore) Jordan Owens continues to look the part at tight end. Our first and second offensive line units did a great job all day as well."

On the defensive side, Brown liked what he saw from a several underclassmen.

"Defensively (redshirt freshman) Sam Horton and (redshirt freshman) Buck Cobbs were in the backfield a lot," said Brown. "(Sophomore) Bradley Clark is going to be a handful inside on that defensive line. (Sophomore) Jake Golday has found a home at linebacker and is moving and playing fast. (Sophomore) Demetrias Charles and (junior) Kendarrius Moore are playing like experienced players at linebacker, also. 

"(Sophomore) Dillion Williams in the secondary looked fast coming downhill from safety, and (junior) C.J. Boskett continues to flash at corner. We also held some returners on the defensive side of the ball today. TaMuarion Wilson, Cam Godfrey, Tra Green and T.D. Williams didn't get many snaps today and up front Logan Jessup and David Walker were held as well."

All in all, Brown said the ninth practice of fall camp was an ideal time for a scrimmage. 

"It was good to get a lot of work and build our depth," said Brown. "We need to finish some starting job battles and some depth battles happening at numerous positions. This will be a big second week for us. We will scrimmage again next Saturday morning at 9 a.m. and get another 100 or so plays in then as well."

The Bears open the 2023 season on Saturday, Sept. 2, at FBS Oklahoma State in Stillwater, Okla. Kickoff is set for 6 p.m.