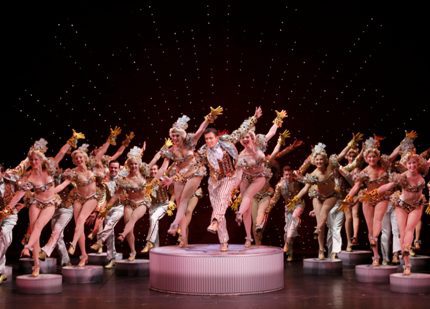 20 Feb

UCA's Reynolds to host '42nd Street' performance

by Audrey Forbes
College of Fine Arts and Communication Media Office


"42nd Street," the quintessential backstage musical comedy classic, will appear at the University of Central Arkansas's Reynolds Performance Hall at 7:30 p.m. Tuesday, Feb. 28.


The musical centers on bright young dancer Peggy Sawyer, who leaves her small-town home for New York to audition for the new Broadway musical "Pretty Lady." When the star of the show breaks her ankle, it's up to Peggy to step up and make the show go on. The musical features some of the greatest songs to hit Broadway, such as "We're in the Money," "Lullaby of Broadway," "Dames," "I Only Have Eyes for You" and "42nd Street."


Director of Reynolds Amanda Horton said the audience has a lot to look forward to.


"This nostalgic Broadway hit will feature a huge ensemble of tap dancers, recognizable show tunes and impressive set designs that will amaze and delight the audience," Horton said.


The original production of "42nd Street" was produced in 1980 on Broadway and played 3,486 performances, winning 1981 Tony Awards for Best Musical and Best Choreography. The Broadway revival, which opened in 2001, played for 1,524 performances and earned two Tony Awards including Best Revival of a Musical.


Tickets are $30-$40 for the general public, $10 for children and students. UCA alumni and senior discounts are available. To purchase, call UCA Ticket Central at 501.450.3265 between 10 a.m. and 4 p.m. Monday through Friday, or toll free from anywhere in Arkansas at 1.866.810.0012 or visit uca.edu/reynolds.