24 Feb

UCA's Nonoyama named SLC player of the week

FRISCO, Texas: For the second time this season, the conference is taking notice of what the University of Central Arkansas tennis program is doing as sophomore Fuka Nonoyama was named conference player of the week.

The No. 2 singles player for the Bears took home her second weekly honor of her career and first this season as she went 2-0 during the weekend against Missouri State and No. 13 Oklahoma State.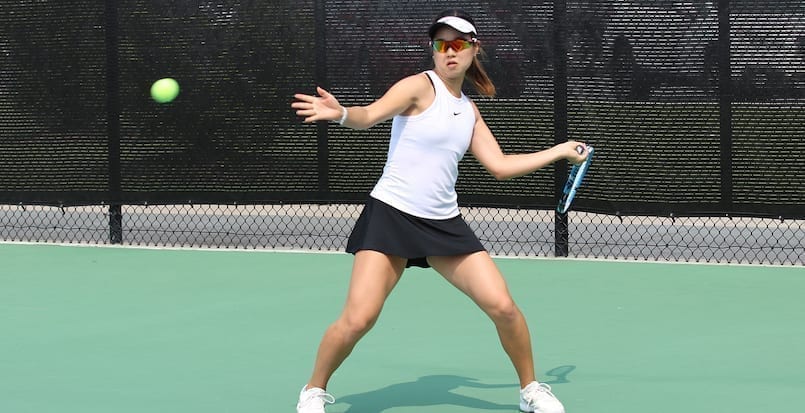 Nonoyama personified dominance in the first leg of the UCA doubleheader as they took on Missouri State to start the weekend. In a quick 4-0 route, the sophomore proved her worth in both singles and doubles. To begin the match, Nonoyama teamed up with her doubles partner, sophomore Chunxi Xin. The duo has posted a stellar 7-3 total on the year, and this match only added another to the win column. Going against MSU, they took on the Bears' No. 1 doubles team and made easy work with a 6-2 victory.
Nonoyama made a quick transition to singles and did not let up against MSU's No. 2 Ellie Burger. The sophomore kept it close in the first set with a 6-4 finish but blew her opponent out in the second with a 6-0 victory.
While her finishes against MSU were impressive, it was her matches against OSU that led to this honor. Against the No. 13 Cowgirls, Nonoyama did not finish either of her matches due to OSU gaining the clinching point in both doubles and singles. However, both of these matches were in her favor before they were called. In doubles, she teamed up with Xin again and faced the No. 34 doubles team in the country. The UCA dynamic duo got out to the early lead 5-4, but it was called before they could get that final point.
On the singles side of things, Nonoyama took on OSU's No. 2 Alana Wolfberg. Wolfberg has been a dominant presence for the Cowgirls as she finished her freshman campaign last year 9-2. It was a challenging task, but the UCA No. 2 had already battled top-tier competition this year and came out on top, so she was ready. Unfortunately, the dual hit that coveted fourth point before she could finish her individual match, that she was well on her way to winning. Before it was called, Nonoyama was up against OSU's No. 2 6-4, 5-4 and was close to closing out that final set for the victory.
Regardless of that outcome, Nonoyama has already been a staple of success for the Bears. This season the sophomore has posted a 17-7 total in all singles competitions, making her more than deserving of this award. This honor is just another one for UCA's No. 2 as she was selected as an All-Conference Singles Player in 2019 and claimed a conference player of the week honor on March 10, 2020. Nonoyama also joins Xin and former UCA player Amiru Shimoguchi as the only Bears to win multiple SLC Player of the Week awards
Up next, Nonoyama and the Bears start their conference journey in their final Southland season beginning this Friday as they travel to Texas A&M-Corpus Christi. 
"I am so encouraged to hear that Fuka was selected for conference player of the week," Coach Casey Wharton said. "She has been working really hard, and she has been playing well this year, especially this weekend when she was competing against Oklahoma State. I think the way she played in that match showed that she is good enough to compete with any player at any level in college tennis. I know she will be excited to learn this news, and my hope is that we can take this momentum and build on it going into conference this weekend."