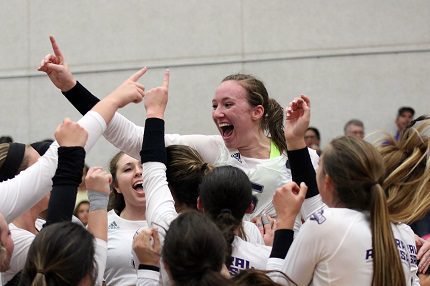 13 Dec 2017

UCA's Anderson selected Student-Athlete of the Year

The Central Arkansas volleyball team is coming off of one of its strongest seasons ever on the court, but the Sugar Bears are also excelling in the classroom, with a league-best three players named to the Southland Conference's All-Academic Teams.


Junior Samantha Anderson was recently named the league's Student-Athlete of the Year, while senior Megan Nash earned First Team honors and sophomore Elizabeth Armstrong was named to the Second Team.


Anderson, who is making her second appearance on the SLC All-Academic Teams after earning First Team honors last season, added to a list of accolades that includes Southland Conference Player of the Year and AVCA All-Region with the announcement becoming UCA's sixth SLC Student-Athlete of the Year in addition to earning First Team honors. A native of Tyler, Texas, Anderson carries a 3.90 GPA in pursuit of a degree in elementary education. She was the only player in the Southland Conference to finish in the top ten in both hitting percentage (third – .330) and kills per set (sixth – 3.35).


"I am very proud of Samantha for earning this award; it became a one of her goals after seeing Megan win it in 2015," said UCA head coach Jeni Jones Chatman. "Her dedication in the classroom, to this program, and her faith is unmatched. She was voted captain by her teammates and goes above and beyond with her leadership both on and off the court."


Nash, the 2015 SLC Student-Athlete of the Year, is making her third consecutive appearance on the SLC All-Academic First Team. She has a 3.96 GPA and will graduate with a degree in exercise science. On the court, she averages 2.30 kills per set while sitting ninth in the Southland in hitting percentage (.297) and sixth in aces (0.33.)


Armstrong, who was named All-SLC Second Team earlier this season after leading a Sugar Bear offense that led the Southland in kills (13.78) and finished second in hitting percentage (.248), has a 3.08 GPA. She led the Southland Conference in total assists (1,213) and assists per set (10.37) while also averaging 1.67 digs, 0.62 kills, 0.39 blocks, and 0.18 digs.