23 Jul 2013

UCA women share recipes, tips

by Don Bingham

Career women are busy ladies, and a great example of this would be the professional team working in Buffalo Hall at the University of Central Arkansas in Conway.

Buffalo Hall houses the advancement department, the foundation office, the alumni foundation office and the communications department for the university. Both men and women are involved in this strategic process of the student's education with a great amount of dedication, determination, commitment and juggling of schedules. Besides full-time employees, many of the women are spouses, moms, chauffeurs, soccer coaches, marathon runners and extraordinary cooks!

The UCA advancement team champions the mission of the university through meaningful engagement and communication with key constituencies. These women are recognized leaders in undergraduate and graduate education.

Among the Buffalo Hall staff are the women who comprise the driving force behind the alumni association and alumni services office in fundraising efforts. The association promotes and supports UCA by encouraging lifelong pride, relationships, engagement and financial investment among current and future alumni and friends of the university.

The Office of Publications and Creative Services recently produced more than 280 communications projects during the past year and provided support to more than 30 campus departments.

Admittedly, these talented women are professional in every endeavor, including the ability to enjoy life while being highly productive in the workforce!

501 LIFE asked each of the female staff of Buffalo Hall for one of their favorite "go-to" recipes, along with one of their guidelines for entertaining. 501 LIFE salutes the women at Buffalo Hall on the UCA campus.
Patsy Brannan
Administrative Specialist/Receptionist
Entertaining is easy if you marry a man who is at home in the kitchen! Bobby makes this dish the day before, so there is very little I have to do before serving it.
Bobby Brannan's Concoction
1 lb. Angel Hair pasta
1 lb. imitation crab, cut in bite size pieces
1 can artichoke hearts, cut in bite size pieces
1 can diced tomatoes, lightly drained
Black olives, if desired
Zesty Italian Dressing (regular or light)
Cook pasta per directions on package, drain and put in a large bowl. Add crab, artichoke and tomatoes to the pasta. Mix together with enough dressing to moisten. Chill overnight; add more dressing if needed. Serve with fresh fruit and hot rolls or garlic toast.
Kathy Carroll
Executive Director, UCA Foundation
Broccoli Salad
3 cups broccoli flowerets
6 slices bacon, fried crisp, drained and crumbled
1 cup chopped red onion
3/4 cup shredded cheddar cheese
3/4 cup Sun Maid jumbo mixed raisins
Dressing:
1 cup mayonnaise
2 tablespoons white vinegar
1/4 cup sugar
Toss together broccoli flowerets, bacon, onion, cheese and raisins. In small bowl combine dressing ingredients and mix well. Pour dressing over salad and toss thoroughly. Cover and refrigerate until ready to serve
Jan Davis
Director of Planned Giving
Tip: When I entertain, I like to create a warm and comfortable atmosphere where everyone feels relaxed and at home. We love to have people over and try not to make it stressful on us and too formal on our guests.
Flour Tortilla Snacks
12 flour tortillas (trim to make square)
1 can bean dip
8 oz. cream cheese, softened to room temperature
1 small can chopped green chiles
1 small can chopped black olives
Red pepper seasoning (optional)
Mix cream cheese, chiles and black olives together. Spread thin layer of bean dip on tortilla, then thin layer of cream cheese mixture. Roll up and chill well. Slice into bite size rolls and serve.
Brenda Graff
Fiscal Support Analyst
Tip: With three active girls who are always "starving," I try to have dinner ready in less than 30 minutes. This favorite is great served with salad or sliced veggies.
Basil Tortellini with Bacon & Tomato Sauce
1 lb. fresh or dried tortellini
1 tablespoon olive oil
4 slices bacon, chopped
2 cloves garlic
1 medium onion, chopped
1 can of tomatoes
1/2 cup cream
2 tablespoons fresh basil, chopped
Cook pasta in a large pan of rapidly boiling salted water until al dente. Drain and return to pan. While pasta is cooking, heat the oil in a medium pan. Add the bacon, garlic and onion; cook for 5 minutes or until bacon is cooked, stirring regularly. Add the undrained tomatoes, reduce heat and simmer for 10 minutes. Add the cream and basil and cook for 1 minute. Add sauce to the pasta and toss well.
Sharon Kuhn
Fiscal Support Analyst
Brown Rice
2 cups of rice
2 cans of beef consume soup
2 cans of onion soup
1 stick of butter/margarine
Combine all ingredients, cover dish and cook for 45-55 minutes at 375 degrees.
Catherine Marhenke
Director of Annual Giving
Entertaining philosophy: When I'm entertaining, I try to remember that my guests would like to visit with me, so I shouldn't tie myself up in the kitchen all night. I try to prep as much as I can early in the day or the night before so that I can enjoy the company of my family and friends.
Hidden Healthy Spaghetti with Meatballs
1 lb. ground turkey
1/4 onion, chopped
2 cloves garlic
1 cup bread crumbs
1 egg
Fresh basil and oregano
Spaghetti
Spaghetti sauce
2 cups spinach
Combine turkey, onion, garlic, bread crumbs, egg, herbs, salt and pepper. Mix well. Make into balls. Cook over medium high heat in 1 tablespoon olive oil. Add your favorite spaghetti sauce and boil your favorite spaghetti noodles (I like to use the kind that are made with vegetables). Fill a bowl with 2 cups of spinach. Put 1 cup of cooked noodles and about a 1/2 cup of sauce and meatballs on top. Cover your bowl with a plate or a cutting board and let it sit for a few minutes. The steam from the noodles and sauce will wilt the spinach. Mix the spinach in with your noodles and sauce and you have a very filling meal that is full of good nutrients! In a super rush? Just use the turkey to make a meat sauce. Brown the turkey, add onion, garlic, fresh herbs and then simmer in your favorite sauce.
Shelley Mehl
Vice President for Advancement
Tip: I want friends to be comfortable, very casual and feel at home. My husband, Peter, comments that I always make too much food, but I never want anyone to leave hungry.
Peaches and Cream Cheesecake
This recipe uses a 9-by-13 pan, but you can cut it in half and use a pre-made graham cracker piecrust. Mix together 8 ounces of graham cracker crumbs and 1 stick of melted margarine. Set aside. Combine in a medium-sized sauce pan:
4 cups fresh peaches (6 large)
1/2 cup sugar
1/2 cup water
1/4 cup corn starch
Cook together until clear and thick. Let cool completely.
Cream together:
2-8 oz. packages of cream cheese
1 1/2 cup sugar
1 teaspoon vanilla
When mixed, fold in 8 ounces of whipped topping. Layer in the 9×13 in pan:
Crumb mixture
1/2 cream cheese mixture
Peaches
1/2 cream cheese mixture
Refrigerate at least 2 hours.
Pat Otto
Alumni Outreach Coordinator
Tip: The only way to entertain is to plan so you, too, can enjoy the party! Stress is no fun and not necessary in great entertaining! Have fun yourself!
Chicken Salad
6 1/2 cups chopped chicken breast (boiled)
3 tablespoons chopped green onion
1 cup chopped celery
3 tablespoons capes
1/2 cup flat leaf parsley, chopped
12 oz. frozen green peas (thawed)
1 cup toasted pecan pieces
1 cup mayo (Dukes)
1 cup sour cream
Salt and pepper to taste
Dash of tabasco sauce
Mix and serve cold.
Joan E. Shofner
Director of Advancement Research
My favorite vegetable to add to our grilled meat is sautéed pole green beans. I sauté the beans over medium heat in olive oil along with a few cherry tomatoes sliced in halves. I add salt, pepper, garlic powder and onion powder to taste and cook the green beans until slightly firm. Remove from heat and sprinkle finely shredded mozzarella cheese over the green beans and tomatoes. Serve immediately. (I cook asparagus the same way.)
Annie Wright
Director of Major Gifts and Special Projects
Sour Cream Enchiladas
3 to 4 cooked chicken breasts, shredded
1/4 cup chopped celery
1 medium onion, chopped
1 can cream of chicken soup
8 ounces sour cream
Salt and pepper
1 cup shredded cheddar cheese
Saute celery and onion; stir in chicken and set aside. In a small bowl, mix cream of chicken soup, sour cream and salt and pepper to taste. Fill a tortilla with chicken mixture. Roll up and lay in a lightly sprayed 9-by-13 pan. Pour soup mixture over tortillas. Cover and bake for 30 minutes at 350 degrees. Remove from oven, sprinkle cheese over top and return to oven until cheese is melted. Serve with a side of salsa.
---
Recognized throughout the state as an accomplished chef, Don Bingham has authored cookbooks, presented television programs and previously served as the executive chef at the Governor's Mansion. He is now the director of special events at the University of Central Arkansas.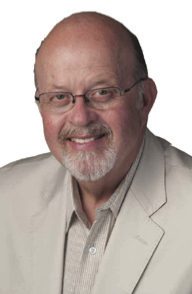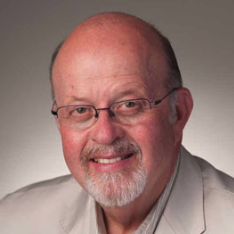 Latest posts by Don Bingham
(see all)