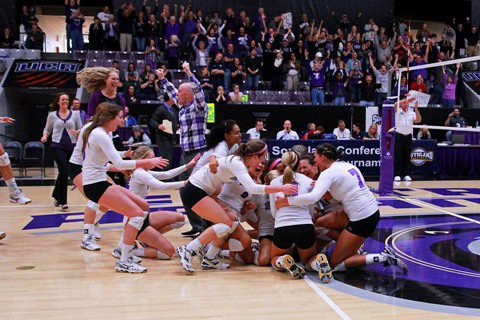 20 Nov 2012

UCA volleyball team headed to NCAA tourney

For the first time ever, the University of Central Arkansas volleyball team is headed to the NCAA Tournament.


The Sugar Bears defeated the Oral Roberts Golden Eagles in the finals of the Southland Conference Tournament on Sunday to secure the conference's automatic bid.

The Sugar Bears (30-4) downed Oral Roberts(17-15) in four sets on the back of a career day from senior Jessica Hays, who hit .288 on her way to a career-high 28 kills. In addition to being a career high, the 28 kills gave Hays 1,698 for her career, surpassing Chloe Smith's 1,689 for a new career record.


Central Arkansas hit .173 for the match, led by Heather Schnars, who hit .333 on her way to 14 kills, three digs and an assist. In addition to her 28 kills, Hays also had 14 digs, giving her a second double-double of the tournament. Jessica Nagy was the final Central Arkansas player with double-digit kills, collecting 11.


Marissa Collins had her third 50-assist match of the tournament, dishing out 50 assists to go along with 10 digs, two blocks and two service aces.


Oral Roberts hit .192, led by setter Laura Taylor, who hit .417 on her way to five kills, 34 assists, eight digs and four blocks. Bruna Silva picked up 27 digs and seven assists, while Tatum Fredeen turned in a team-high 14 kills.


The win was especially sweet for the Sugar Bears, as they have come so close to winning the championship in each of the past two years, falling in five sets to UTSA in the finals in 2010 and losing in five sets to Texas State in the semifinals of last season's tournament.


"It feels so good, I really can't put it into words," exclaimed Central Arkansas coach David McFatrich. "Personally, I wanted this so bad, for our athletic department and this great university, for our amazing fans and for 15 of the best young ladies a coach could ask for. On Aug. 8, the first day of practice, we circled this date. We had three goals: win the conference, win the tournament and go to the NCAA tournament. All three of those goals have been accomplished, so now it's time to dream bigger."


Collins echoed the enthusiasm, saying, "We've worked all season to get to this point, so it means the world to us. This was our main goal for this season, so to achieve it really means a lot."


McFatrich was just as excited about Hays' career performance, saying, "I've been in this league for six years, and she's the best all-around volleyball player I've seen here. I think she's one of the best in the nation. I love that young lady. To go what she's gone through, with three knee surgeries and straining her quad on Wednesday, is an incredible testament to what kind of player she is, and how much she wanted it. She was incredible"


Hays explained her elevated level of play by saying, "I've been waiting for this so long. I missed last year, so I've been waiting for two years. Today I woke up and I was just so ready to play, and really our whole team was. The knee felt good this morning, so I was ready to go."


The Sugar Bears will find out the details of their next match at 3 p.m. Sunday, Nov. 25, when ESPNU airs the NCAA Tournament Selection Show. The first round of the tournament takes place on Thursday, Nov. 29, and Friday, Nov. 30.