31 Dec

UCA unveils Ronnie Williams Student Center

The University of Central Arkansas honored longtime executive administrator Ronnie Williams by renaming the campus Student Center to Ronnie Williams Student Center. The name was unveiled in a special ceremony on campus Dec. 3.

"For this president and for this board to feel that I did something so significant as to have my name attached to this wonderful facility … is a blessing," said Williams. "I want you to know how grateful and how thankful I am."

The UCA Board of Trustees voted to rename the building at its August 2021 meeting. At that time, UCA President Houston Davis thanked him for his dedicated service to the university.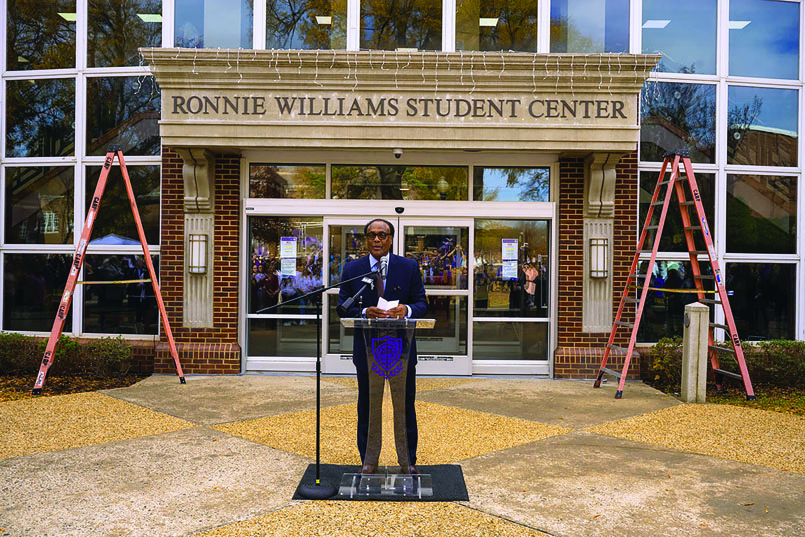 "The true measure of his work and impact lives in the tens of thousands of students' lives that he touched and the futures that he impacted. Ronnie was a man of service and conviction in his time at UCA and has left our university better than he found it. We are thankful to call him colleague and friend, and his legacy will still be felt long after his retirement," Davis said.
The Ronnie Williams Student Center houses a food court, student meeting rooms, offices for the Student Government Association, a convenience store, KUCA radio station, and other student-focused facilities.
For more than three decades, Williams was a pillar of the UCA campus community. He began his career at UCA in 1980 as assistant dean of students. In 1990, he became director of Minority Affairs, and in 1992, he was named assistant to the president. Williams became vice president of Student Services in 1996. His role expanded to include chief diversity officer in 2013. Williams retired in 2021.
"I'm the one standing here, accepting this honor, but the recognition belongs, at least in part, to the phenomenal team of Student Services professionals, to faculty and staff that I have the pleasure to work with at various stages of my career," Williams said. "Thank you for partnering with me in leadership, but more importantly, thank you for your friendship. I love you dearly."
Dozens of faculty, staff, students, alumni, and community members joined Williams in the celebration, along with his wife, Connie, and other members of his family.
Williams' accomplishments stretched beyond the UCA campus. He was vice chairman of the Arkansas Educational Television Commission. His service also includes the Arkansas Community Foundation Board, the Faulkner County Shelter for Abused and Battered Women, and the Arkansas Supreme Court Committee on Professional Conduct.
He was also the first Black chairman for the Conway Area Chamber of Commerce Board of Directors. The Conway Area Chamber of Commerce recognized Williams with the Guy W. Murphy Distinguished Service Award in 2018. The award is the highest form of recognition from the chamber and is presented each year to a person or group who has demonstrated special service to the community. The chamber cited Williams' inclusive, open leadership and guidance at UCA and toward people and organizations in Faulkner County.
Williams was the first Black person to serve at the executive level at UCA. An endowed scholarship in his name was announced in 2021. The Ronnie Williams Scholarship provides support to full-time students who are active participants in a recognized student organization with preference given to students in a leadership role with a 2.5 GPA or above.