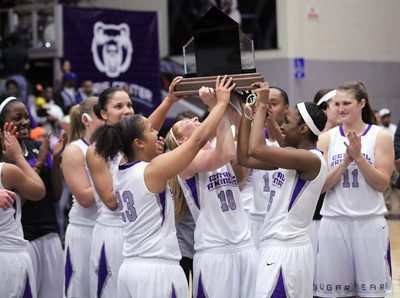 07 Mar 2012

UCA Sugar Bears celebrate first Southland Conference Championship

by Mark Oliver


If you haven't been keeping an eye on the UCA Sugar Bears basketball team this season, you've been missing out.


The Sugar Bears (24-6, 14-3 Southland) claimed their first Division I title in school history in front of a packed Farris Center on Saturday, defeating Texas A&M-Corpus Christi, 66-45, finishing an impressive 16-0 at home.

It was the perfect finishing touch to an amazing regular season for UCA, which began with three-straight wins against Indiana, Alabama and Paul Quinn at the Farris Center. The Sugar Bears would then hit the road to Lubbock, Texas, to play in the Texas Tech Classic, where although the team would grab just one win in three games, the team also gained enough experience to come back home to Conway to win three straight contests.


The Sugar Bears spent mid-December in sunny Nassau, Bahamas, defeating High Point University 69-59, but falling to Georgia Tech, 67-61. Upon its return to the United States, UCA would make an impressive 16-2 run to finish the season, including a 10-game winning streak dating from Jan. 14 to Feb. 22.


The Sugar Bears celebrated their success last weekend by cutting down the nets in the Farris Center, where a brand new banner graces the arena for all to see. With the Southland Conference Championship in hand, UCA looked to make a run toward a possible NCAA tournament bid. However, the top-seeded Sugar Bears were struck down hard by No. 8 Nicholls State in the first round of the Southland Conference Tournament in Katy, Texas, on Tuesday night, 79-59.


"[Nicholls] played awfully well," said associate head coach Tony Kemper. "We couldn't guard the man coverage or the zone coverage. I thought our girls did a good job coming out at the half and fighting back into the game, but it just wasn't enough."


With the loss, the Sugar Bears' look ahead to Monday night's announcement of the Women's National Invitation Tournament pairings.


"We have more basketball to play," Kemper said. "We have to go back and regroup. We need to be resilient. We need to get our chins up and go out and compete again. We have done a very good job of that all year and it's a great honor to be able to play in the WNIT."


The Sugar Bears pulled in a number of honors this week, including junior forward Megan Herbert's second-consecutive Southland Conference Women's Basketball Player of the Year award. Herbert posted quite the resume this year: leading the conference in double-doubles with 17, while ranking second in the conference in scoring, rebounding and field goal percentage. She also ranked fifth in the nation in double-doubles and ninth in rebounds. She becomes the first player since the 1997-1998 seasons to win the award in back-to-back seasons. Herbert was also named Southland Conference Defensive Player of the Year and was named to the Southland Conference first team.


Senior guard Nakeia Guiden, who played at Guy-Perkins High School, was a third-team all-conference selection and senior guard Destinee Rogers received an honorable mention. Sugar Bears Head Coach Matt Daniel was named Southland Conference Coach of the Year for the second time in three years after leading the school to its third-consecutive season with at least 21 wins.