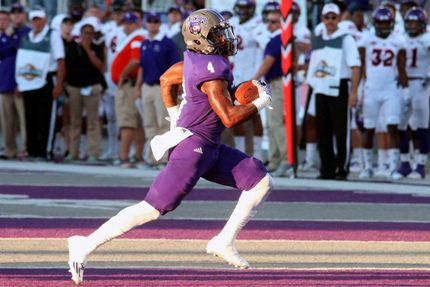 25 Nov

UCA players receive honors

The University of Central Arkansas Bears recently had 12 players named to the 2016 All-Southland Conference football teams.


Five more Bears were named honorable mention following a regular season that saw UCA finish 9-2 overall and 8-1 in conference play, with the lone SLC loss to the No. 1 team in the nation, Sam Houston State.


Wide receiver Desmond Smith, offensive lineman Stockton Mallett, all-purpose player Jatavious Wilson, defensive lineman Jordan Toliver and defensive backs Tremon Smith, George Odum and Tyler Williams were first-team selections. Quarterback Hayden Hildebrand, offensive lineman John Austin Cook, defensive end Cardell Best, defensive back Devin Spurlock and punter Patrick Ponder were named to the second team.


Honorable mention selections included tight end/H-back Cody Dauksch, defensive linemen Terrence Partee and Chris Terrell and Tremon Smith as a punt returner and Wilson as a wide receiver.


Desmond Smith, a senior from Bentonville, is second in the SLC in receptions per game at 5.5. He has 61 receptions for 808 yards and six touchdowns. Smith broke the UCA career record for receptions last week and now has 217 career catches. He is also second in career receiving yards with 2,743.


Wilson, a senior from Bastrop, La., also set school records this season for career all-purpose yards (5,487), career kickoff returns (117) and career kickoff return yards (2,804). He leads the SLC in all-purpose yards (130.5 per game) and is Top 10 in both receptions per game and receiving yards per game with 57 catches for 784 yards.


Mallett, a junior left guard from Harrison, (Yellville-Summit HS), helped the Bears average 448.6 yards per game, second in the SLC. UCA rushed for a league-high 203.1 yards per game. Toliver, a senior tackle from Duncanville (Texas) High School, anchored a UCA defense that allowed just 67.9 rushing yards and 20.6 points per game, both tops in the conference.


UCA's trio of defensive backs included Smith, a junior from Anniston, Ala., Odum, a junior from Millington, Tenn., and Williams, a senior from Norcross, Ga. Williams led the league in passes defended with 24, including a team-high four interceptions. Smith tied for third in the conference with 13 passes defended, including two interceptions.


Odum is the Bears' leading tackler with 74 stops, including 7.5 tackles for loss and 2.5 sacks, as well as an interception returned for a touchdown, three forced fumbles and two fumble recoveries, despite playing the second half of the season with an injured hand.


Hildebrand, a junior from Bossier City, La., is the third-rated passer in the SLC with a 142.4 rating, having completed 203 of 328 for 2,668 yards and 17 touchdowns. His is fourth in the conference in total offense at 260.6 yards per game.


Cook, just a sophomore, is a 6-foot-4, 319-pound right tackle who, with his fellow linemen, allowed just 13 sacks in 11 games this season.


Best, a junior defensive end from Little Elm, Texas, has 27 tackles, including 9.5 tackles for loss and 5.0 sacks, along with 2 pass breakups and a forced fumble. Spurlock, a two-year starter at safety from Dallas, is UCA's No. 2 tackler with 60 total stops. He also has an interception, two pass breakups, a forced fumble and a fumble recovery.


Ponder, a junior from Bay St. Louis, Miss., is second in the SLC in punting with a 42.7-yard average on 50 punts, with a long of 61. He has dropped 13 punts within the 20-yard line and has 17 punts of at least 50 yards.