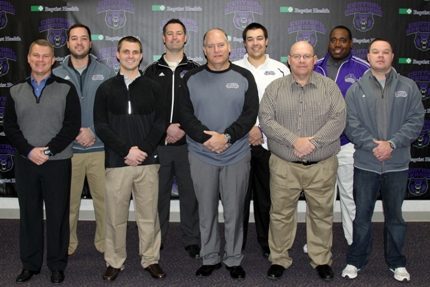 08 Jan 2014

UCA plans reception for new football coaching staff

Fans of the University of Central Arkansas Bears Football Team will have an opportunity next week to meet the new coaching staff.

Head coach Steve Campbell and his staff will be on hand to meet and greet the public for the first time at 6 p.m. Monday, Jan. 13, at the Centennial Special Events Center at Centennial Valley Country Club. Refreshments will be provided at the reception and it is open to the public. For more information, call 501.450.3150.


Campbell, UCA's first new head football coach since the 2000 season, brings an impressive resume and a promise of exciting football to the UCA program. His coaching staff is a perfect mix of young, energetic coaches and experienced, savvy veterans who plan to build upon the winning tradition of the Bears' football program.


Campbell had his first full meeting with his new staff last week, with two spots on the defensive side of the ball still to be filled.


"I'm very excited about the makeup of this staff,' said Campbell, who was hired on Dec. 20 from Mississippi Gulf Coast to replace Clint Conque. "We have a lot of youthful enthusiasm and enough guys with great experience. We have guys that are tireless recruiters. And guys that put the best interests of the young people that they're working with first. Guys that are good people first and also outstanding football coaches. We're very excited about this staff."


The first coach on board was former UCA All-American quarterback Nathan Brown, who will be the new offensive coordinator for the Bears after serving as quarterbacks coach at UCA the past three seasons. Brown holds nearly all the passing records at UCA, including more than 10,000 career passing yards and 100 touchdown passes, and was the Bears' first invitee to the Senior Bowl and a Payton Award finalist.


"I'm excited to have Nathan with us,' said Campbell. "He has a tremendous football knowledge as well as an impressive background at UCA. He's an integral part of what we want to do here. I'm really looking forward to working with Nathan. He's a young star in football coaching and we're glad to have him on our staff."


Also returning from the most recent staff is defensive line and special teams coach Dan Augustine, who was originally set to follow Conque to Stephen F. Austin, but decided to return to UCA because of previous ties with new defensive coordinator Greg Stewart. The pair coached together at Jacksonville State.


"It's great to be able to keep Dan,' Campbell said. "He's done a great job here with the defensive line and working with special teams. I got to know Dan through his recruiting the junior colleges in Mississippi. You could always tell when he came through that he had a great rapport with the coaches and the players and was very well respected. He has a good understanding of the inner workings at UCA. He's an outstanding coach and we're glad to get him back on board here."


Robert Cunningham, a former offensive lineman for the Bears and last year's director of football operations and recruiting coordinator, also returns. Cunningham played on the offensive line at UCA from 2006-2009 and will be assistant offensive line coach and director of operations in 2014.


"He's been invaluable so far during the transition,' said Campbell. "He was a great football player here and has been very helpful during this move. We're excited about being able to keep him on board."


The Bears' new defensive coordinator is veteran Greg Stewart, who last coached at Louisiana-Lafayette under former UCA assistant coach Mark Hudspeth. Stewart has an extensive background at Jacksonville State and served under Campbell as defensive coordinator at Delta State in the late 1990s.


"I'm very excited to have Greg join us as defensive coordinator,' said Campbell. "He has a wealth of experience at this level. He's coordinated an FCS team that beat an SEC team. He was the defensive coordinator for two bowl wins at ULL. He brings a wealth of experience and a great energy to that position.


"We played together at Troy on the 1987 national championship team. We butted heads every day. I was the center and he was the noseguard, so we went at it a lot."


Mike McCarty will coach running backs, coming to UCA from Holmes Community College in Goodman, Miss. He coached previously on Steve Roberts' staff at Arkansas State from 2004-2008.


"Mike was the offensive coordinator at Holmes Community College," said Campbell. "He has coordinated in the Southland, as offensive coordinator at Nicholls State, and also at Hofstra and Illinois State. So he brings a lot of experience at this level. He's a great recruiter, he's very organized and he's an outstanding football coach."


Pete Bennett comes with Campbell from Mississippi Gulf Coast and will coach receivers for the Bears. Bennett is a Florida native like Campbell and played at North Carolina Wesleyan and Florida Southern.


"Pete was my wide receivers coach for the last six years at Gulf Coast," said Campbell. "He's an outstanding recruiter and excellent receivers coach. He's developed three All-American receivers there at Gulf Coast. He did an outstanding job with those guys and we look for him to do the same here at UCA."


D.J. Looney, a former Mississippi State offensive lineman, will coach tackles and tight ends for the Bears, coming to UCA from East Mississippi Community College. Coming out of a high school in Birmingham, Ala., Looney was rated the No. 11 center prospect in the nation by ESPN.com and 12th by Rivals.com.


"D.J. will coach our tackles and tight ends. I've known him as a coach for last two years while he was the offensive line coach at East M
ississippi CC, where they won the NJCAA national championship this year. He does an outstanding job of coaching and recruiting. I think he's a rising star and great young football coach that we're glad to have on staff."


Coaching the cornerbacks for the Bears will be Tommy Rybacki, who coached previously at ULL and Jacksonville State.


"Tommy was the corners coach at ULL,' said Campbell. "Tommy is an outstanding young coach with a lot of energy and enthusiasm. He also worked with coach Stewart at Jacksonville State, and worked with coach (Mark) Hudspeth the last couple of years at ULL. He's an excellent secondary coach with a lot of energy and one that can help us in a lot of different areas."


Campbell has tabbed Robert Stiner as the team's new strength and conditioning coach. Stiner come to UCA from Mississippi State, where he was assistant strength coach.


"Robert was one of the assistant strength coaches at Mississippi State, which just won the Liberty Bowl," Campbell said. "He's worked in the SEC the last two years in the Mississippi State strength program and also in the LSU strength program. He has great experience on his resume. He's an outstanding young coach with a lot of enthusiasm, and I'm really looking forward to him working with our guys in the weight room and in the offseason development program.


"He brings a lot of experience as well as youth and enthusiasm to that position."


The Bears, under Campbell and his new staff, will open the 2014 season at Texas Tech on Saturday, Aug. 30, in Lubbock, Texas.