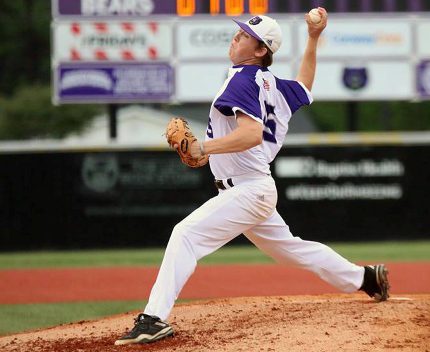 21 Jun

UCA pitchers taken in MLB Draft

The University of Central Arkansas Bears had a pair of junior pitchers taken in the recent 2017 Major League Baseball Draft.


Ty Tice of Prairie Grove and Tyler Gray of Fort Smith were taken by the Toronto Blue Jays and Minnesota Twins, respectively.


The Blue Jays selected Tice in the 16th round as the No. 489 overall pick, while the Twins grabbed Gray in the 20th round as the No. 586 overall selection.


The two draftees give the Bears seven draftees or MLB signees over the past seven years, with four of those from the state of Arkansas.


Tice led the Bears with eight saves this season, tied for third in the Southland Conference and fourth in school history, and finished 2-3 with a 4.45 earned-run average.

Tice had 67 strikeouts in 56.2 innings, with opponents hitting .254 against him. He had a season-high nine strikeouts against SLC champion McNeese State and a season-high 132 pitches against New Orleans.


For his career, Tice has 41 appearances on the mound, with 12 starts and eight saves. His overall record is 3-4 with a 4.53 ERA over 93.1 innings. Tice has recorded 98 strikeouts with 46 walks.

Gray was UCA's strikeout leader with 89 Ks (fifth in the SLC, fourth in UCA single-season history) and had a 6-6 record with a 3.80 ERA in a team-high 87.2 innings pitched. Gray had 10 starts and 19 total appearances, with one complete game. Gray had a season-high 11 strikeouts twice, against Incarnate Word and Northwestern State, and had a season-high eight innings twice.

In his three years at UCA, Gray has 168 strikeouts (eighth in school history), a 13-8 record and a 3.42 ERA. He has made 47 appearances with 19 starts and has four complete games over 171 innings.

The Bears finished 34-26 overall, their third season in the past five to win at least 30 games. UCA also reached the SLC Tournament championship game for the third time in the past five years.