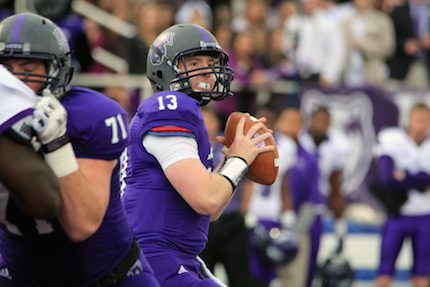 12 Aug 2014

UCA: New-look Bears look to bite back in 2014

Conference: Southland Conference
Coach: Steve Campbell
'13 Record: 7-5 (4-3)

An injury-filled season and the loss of a head coach might cause panic for some programs, but for the University of Central Arkansas, the Bears open the Steve Campbell era with hope and excitement.

"The players I have talked to are extremely high on him," Bears sideline reporter Monty Rowell said. "He's been successful everywhere he's been, and he's won everywhere he's been. I think the first impression he's made with this group has been very good."


Campbell takes over for Clint Conque, who left UCA to become the head coach of Southland rival Stephen F. Austin.


"Coach Conque left as the winningest coach in school history," Rowell said. "He built a good program, and when he left, he left UCA in pretty good shape. Conque took us to another level, and now it's Coach Campbell's turn."
Senior Ryan Howard and junior Taylor Reed will battle for the starting quarterback position in the fall. Each player contributed greatly after the Bears lost Wynrick Smothers to injury last season.

Top receiver Dezmin Lewis appears primed for a great year. The senior caught 50 passes for 721 yards and seven scores a year ago and was recently named to the preseason All-Southland Conference first team. UCA also looks to strengthen its running game with the likes of senior Willie Matthews, junior Blake Veasley and sophomore Kelton Warren.
"I believe that we'll see a more balanced offense this year," Rowell said. "Coach Campbell wants to run the ball but also likes to throw it, too. A lot of solid players are coming back, and many impressed in the spring."

UCA returns just six defensive starters and may look to fill some gaps. Jonathan Woodard, who led the league in sacks last year, is a force on the defensive line. The junior recently received preseason All-Southland Conference first team honors to add to an already-impressive resume.
Junior Dillion Winfrey – a member of the inaugural 501 Football Team – also could emerge as a big playmaker, finishing second on the team with 56 tackles last season.

With the new season on the horizon, UCA looks ahead with healthy players and optimism in Campbell.
"He's a good, solid coach, and all indications are that it's going to be a good year for UCA," Rowell said. "When you make transitions, things change, and we'll see what happens."