16 Nov 2022

UCA Men's Soccer falls in championship final

NASHVILLE, Tenn. – The Central Arkansas men's soccer team finished the 2022 ASUN Championship as runners-up for the second-straight season, falling 6-2 to the No. 1 seeded Lipscomb Bisons on Nov. 12.

Central Arkansas wraps up the tournament with a 6-5-6 record, hoping now for an at-large bid into the NCAA tournament. Saturday's loss also snaps a seven-match streak without a loss for the Bears.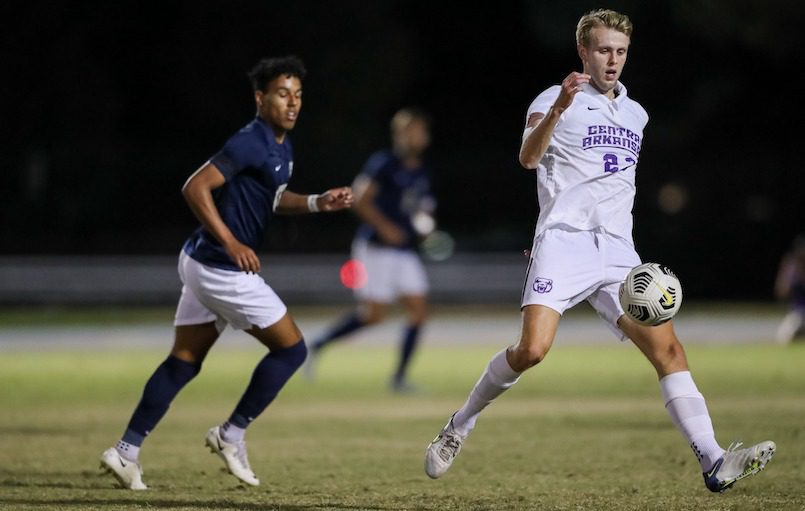 The opening minutes of the match stayed fairly even, with each side having quality looks at shots. In the fifth minute, Sebastian Andreassen took a long ball at the top of the 18-yard box, settled it, turned and fired, but his shot was just left of the net. Fifteen minutes later, Karim Diao had a similar look, taking a ball from about 20 yards, he put one on a rope, but his shot also glided off target.
After nearly 30 minutes of what seemed to be a competitive match, everything changed on a dime in the 29th, as Lipscomb tallied the first goal of the match. Before the Bears could recover, the Bisons hit another, finding two scores in two minutes to open the scoring. Before halftime, Lipscomb would score a third goal, widening the gap.Coming out of the half, Central Arkansas finally struck. Earning a free kick, Mathias Bendiksen played a ball into the box, where it simply bounced into the net, with the keeper, a defender and Jerry Gutierrez all in the vicinity, but coming up unable to change the trajectory of the shot. The goal was the third of the season for Bendiksen, and cut the lead to 3-1.
As the Bears fought for a second goal to cut into the lead, Andreassen nearly converted on a shot just a few minutes later, firing one past the keeper but wide left. From there, a wave of goals by the Bisons put the game out of reach, as Lipscomb scored three more goals in ten minutes. Diao scored the second goal of the night for the Bears in the 90th minute, but it was too little, too late.