11 Apr 2021

UCA launches $100 million fundraising campaign

The University of Central Arkansas launched the public phase of the largest fundraising effort in university history. The campaign, UCA Now: Impact Arkansas and Beyond, is a comprehensive capital campaign with a goal of raising $100 million.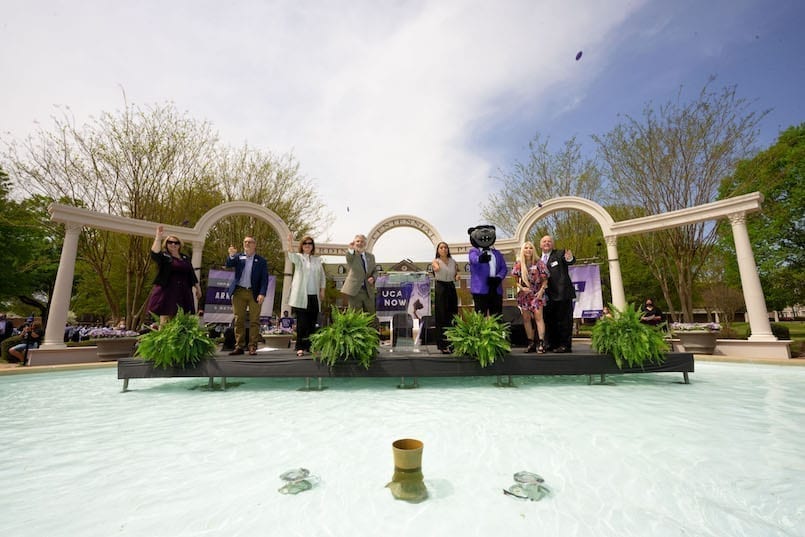 "This $100 million campaign again raises the bar for our university and places UCA in special company relative to peers," said UCA President Houston Davis. "Breaking through the ceiling of $100 million announces that our students, faculty, staff and alumni belong in this select company in American public education.
"I am excited about the future of this university. Our time is now."
In announcing the public phase of the eight-year campaign, the university also announced that $72.5 million has been raised toward the total goal of $100 million. The total includes a surprise gift announcement from longtime UCA supporters Rush and Linda Harding—a $3 million estate gift.
For more than 33 years, the Hardings have provided support through scholarships, programming, endowed professorships and numerous sponsorships. Their gifts have also supported two iconic campus locations: the Amphitheater in the Student Center Courtyard and Harding Centennial Fountain and Plaza, where the event was hosted. The Hardings are serving as UCA Now campaign co-chairs for 2021.
"From the moment of his arrival in January 2017, President Davis has worked with vision and determination in service to this great university and its mission. Today's celebration is in large part a testament to his leadership," said Kay Hinkle, chair of the UCA Board of Trustees.
Davis was joined by members of the UCA Board of Trustees; Mary Bane Lackie, vice president for University Advancement; Jeff Standridge, chair of the UCA Foundation Board of Directors; and other special guests and alumni. The celebratory event included high-impact performances by the UCA Bear Marching Band, university mascot Bruce D. Bear and hundreds of faculty, staff, students, alumni and friends. Attendees commemorated the occasion by tossing a commemorative coin into the Harding Centennial Fountain, symbolizing the value of participation.
UCA Now includes four campaign pillars: success, culture, wellness and excellence. Success is growing university endowments to remove financial barriers to student success. Culture distinguishes UCA's commitment to raising the bar for arts in central Arkansas which will help usher in new social, cultural and economic opportunities for the region. Wellness signifies UCA's role as a leader in health care education and wellness in Arkansas. Excellence showcases the exceptional disciplines, partnerships and unique experiential experiences that contribute to student success and community growth.
The campaign began its quiet phase in July 2016 and will conclude in July 2024. The university has set a goal of 15,000 donors.