07 Apr

UCA increases winning streak to three

CONWAY — The University of Central Arkansas cruised against Northwestern State as they increased their match-winning streak to three. 


The Bears claimed both of the doubles matches played and won four of the six singles matches in the 5-2 route against the Lady Demons.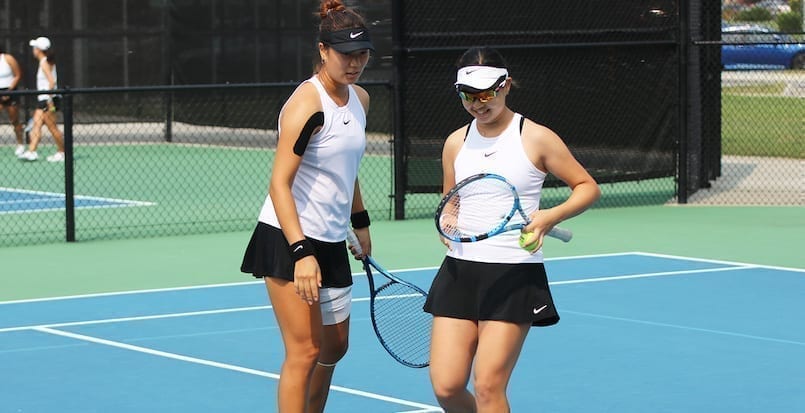 Doubles:

It only took two matches for UCA to get the job done as the two teams agreed to play till clinch. For that reason, the sophomore pairing of Chunxi Xin and Fuka Nonoyama and the duo of junior Yada Vasupongchai and sophomore Mei Ishimura claimed the needed victories. Xin and Nonoyama got the ball rolling with a quick one as they bested NSU's No. 1 pairing 6-2. Not to be outdone, the Bears No. 2 group of Vasupongchai and Ishimura came out with their own 6-2 victory. After those two matches were finished, UCA held the initial advantage with a 1-0 score.

Singles:

UCA wanted to make sure they won this one quickly and with ease, and that is what they did in the first three singles matches. Starting the frenzy was Vasupongchai as she won it 6-4, 6-3, not too far off of that freshman Sumomo Hamanaga won hers 6-4, 6-1. The final winner in the three-match streak was freshman Maja Gledic. Gledic also claimed hers with ease as she won in two sets, 6-1, 6-3. 

UCA would take a quick break from winning their matches but would return to it as they got one more from the No. 2 spot. Nonoyama would be the last winner for the Bears as she played out the tiebreaker in the third set. Nonoyama fell behind in the first, 6-3, but would eventually even it up with a 6-4 second set victory. Since the match was already clinched, the third set would be played to 10. Nonoyama was the first to reach that mark as she breezed to that point in the 10-3 finish. 

Up next, the Bears will stay home as they host Abilene Christian at a TBA time on April 9th in the UCA Tennis Courts.