30 Sep

UCA hosts third Women's Business Showcase

By Stefanie Brazile

"We want women to dream. What do you want to do that you feel is not even possible?" Pete Tanguay said to attendees at the third annual kickoff of the Women's Leadership Network on the UCA campus.

Tanguay represented the Central Arkansas Open Women's Professional Golf Tournament and presented a check for $3,500 to sponsor the first Women's Leadership Academy. The academy is under the umbrella of the WLN and 17 women have been named to the first class.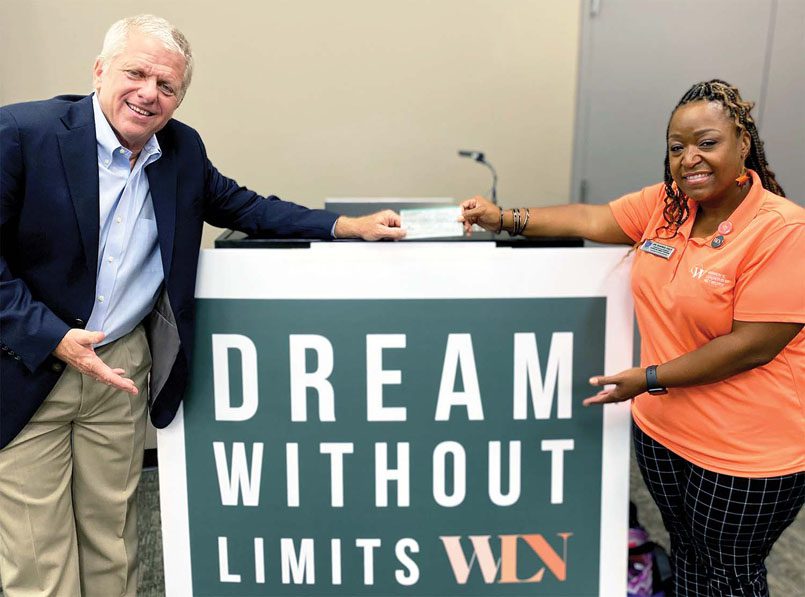 "You've got to have a dream and you've got to have support — like the Women's Leadership Academy — and then you have to work hard, and for some of you, your dream will come true," Tanguay said.
Dr. Shaneil Ealy, associate vice president of UCA's Division of Outreach and Community Engagement, received the check and announced the names of the women who were chosen for the academy, which will span seven months. During classes, they will discuss leadership and education, government, business, community development and healthcare.
"Most importantly, they will take a deep dive into their personal development, helping them to learn about themselves and their strengths, how to elevate their voice, and how to take up space," Ealy said.
The announcements were part of the Women's Business Showcase, held Sept. 16 in the Brewer-Hegeman Conference Center. The annual event is an opportunity for women to promote their businesses and network, while providing a fun atmosphere to support women-run businesses from Central Arkansas. More than 40 businesses showcased their products and services.
UCA's Women's Leadership Network was created for women, by women, to support women who are seasoned or aspirant leaders in the home, at work, or in the community, according to the website. The purpose of the network is to provide opportunities for women to connect from various backgrounds.
In addition to the academy, women were encouraged to join a Circles of Influence Group. Five topics are led by experts, and up to 20 women can attend the monthly, hour-long meetings. Most are being held virtually.
Ealy also invited women to participate in the WLN Book Club on Oct. 19 with a "Discussion of Bridgerton," a popular Netflix series. A discussion of "Set Boundaries, Find Peace" will take place Nov. 16. Both discussions will be facilitated by Leslie Zorwick and registration is required.
To learn more about WLN, the Academy, Circles of Influence, or the book clubs, visit uca.edu/outreach/women or call 501.450.3118.