02 Aug 2022

UCA hosts the International Trombone Festival

Posted at 8:38 PMh

in

News

By Stefanie Brazile

Musicians from around the globe descended upon the University of Central Arkansas's campus July 13-16 for the International Trombone Festival (ITF). It was a weekend for all things brass, with guest performers, master classes, exhibits, and concerts.

"Hosting an International Trombone Festival is an amazing and humbling experience," said Dr. Justin Cook, associate professor at UCA and the Festival Manager. "It was such a joy to see trombonists from all over the world experience our incredible campus and our fantastic town of Conway!"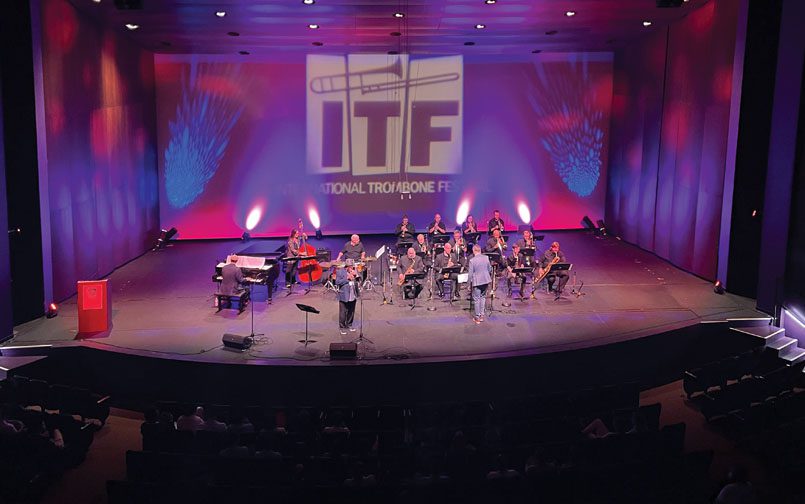 ITF is an annual, multi-day event featuring all things trombone, and around 1,000 people attended. Artists, teachers, students, professionals, industry leaders, and hobbyists gathered to celebrate and explore the facets and styles of trombone playing, teaching, and composing. It is the premier event worldwide for all things trombone-related.
The International Trombone Festival (formerly the International Trombone Workshop) was founded in 1971 to celebrate the life and legacy of the great trombone artist and pedagogue Emory Remington. He served as a Professor of Trombone at the Eastman School of Music from 1922 to 1971. From 1972 to 1979, the event was held annually at George Peabody College in Nashville, Tenn., and beginning in 1980, it moved yearly between host sites in the U.S. and abroad. ITF programs now number in the thousands, averaging around 35 concerts annually. They have taken place around the world, including Detmold, Germany (1992), Boulder, Colo. (1998), Helsinki, Finland (2003), New Orleans, La. (2005), and Paris, France (2012).
During each festival, there are guest performances by pedagogues, lecturers, and performers. A competitive application process determines who performs. In addition, the event attracts an array of exhibitors, representing the cutting edge of trombone repertoire, recordings, instrument technology, and accessories.
At the recent festival, Reynolds Performance Hall was transformed into the ultimate trombone classroom and was the site of concerts and events. UCA's own Natural Slides performed a show with Dallas Symphony and Opera Orchestra members. Also, the Fountain City Brass Band from Kansas City was featured at the July 14 concert. Soloing with that ensemble was UCA's own alumnUSand University of North Texas Professor, Tony Baker.
Cook, Dr. Christopher Sharpe, and UCA's Department of Music were essential to the successful event.
During U.S. Festivals, ITF is also home to the Youth Workshop, a unique program for developing trombonists who are 12-17 years old, and the Composers Workshop, which supports new music for the instrument.