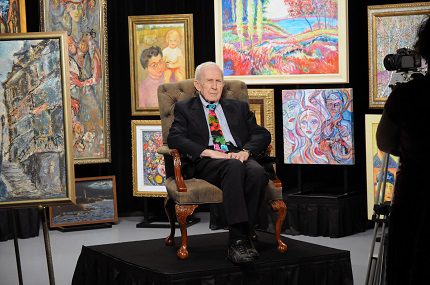 06 Aug 2017

UCA hosting art exhibit with Gene Hatfield work

Posted at 8:34 AMh

in

News

The University of Central Arkansas College of Fine Arts and Communication and Division of Outreach and Community Engagement are hosting the "Gene Hatfield: A Lifetime of Distinction, Achievement and Emeritus" art exhibit at UCA Downtown through Friday, Aug. 25.


UCA Downtown, 1105 Oak Street, is open from 9 a.m. to 5 p.m. Monday through Friday. The exhibit is free and open to the public.

Hatfield, a Conway native, UCA alumnus and UCA Department of Art Professor Emeritus, created a collection of multi-media collages, paintings and sculptures. This exhibit features an excellent representation of his evolving painting style, subjects and media, as well as two metal sculptures.


Much of Hatfield's work made a statement about his feelings toward the wastefulness of contemporary society. Several of his pieces are registered with the Smithsonian Institution's Save Outdoor Sculpture program, continually adding value to the art community.


Hatfield died Feb. 18. It is estimated he created more than 2,000 pieces of art, much of which was temporary by nature, but what remains of his life's work is enjoyed by those who knew and loved the man as much as his artwork.


Hatfield's art is represented in public and private collections in France, England, Washington D.C., New York City, Little Rock and Conway. He donated a large body of his own work and works by other artists to the University of Central Arkansas Foundation.


For more information, contact Kristen Spickard at 501.852.2598 or [email protected]
GENE HATFIELD BIO

Gene Hatfield was born Nov. 23, 1925, in Conway. Growing up during the Depression, Gene had to learn to be frugal. He also learned to see beauty in clutter from his grandmother whose yard was known as a "treasure chest of junk."

In November 1943, at age 18, he was drafted into the U.S. Army. Gene was injured on April 22, 1945, while fighting in Germany. The muscles under his left eye were severed when he was struck by shrapnel from an anti-tank grenade. Already a professed artist, he was afraid he would lose his sight, but an army surgeon in England saved his vision and his life.

Gene was honorably discharged from the Army, having received a Purple Heart, a Bronze Star and a Medal of Meritorious Service. He earned a BSE from Arkansas State Teachers College, (now the University of Central Arkansas) in 1947. In 1948, he earned his master of art education degree from Colorado State College, (now the University of Northern Colorado) in Greeley. He then returned to Conway to teach at ASTC (UCA).

In October 1956, Gene met Nicole Wable, a native of Montreuil-sur-mer, France, while she was visiting friends at the University of Arkansas in Fayetteville. They were married Aug. 17, 1957, in Nicole's hometown. After their wedding, Gene and Nicole lived in Conway, where Nicole became a professor of foreign language at UCA. They had three children: Hadrian, Marc and Mathilda.

Spanning both the art and theatre departments, Gene taught drawing, painting, sculpture, crafts, design, art history, art appreciation and stagecraft until he retired in 1985. He was named professor emeritus by UCA in 1995.

He received the Arkansas Arts Council 2010 Governor's Award for Lifetime Achievement and in 2013 was featured by AETN in a documentary series titled "Arkansas Men and Women of Distinction."