09 Nov 2022

UCA falls on road at EKU

RICHMOND, Ky. — A week after putting up record-setting numbers, the University of Central Arkansas offense struggled Nov. 5 in a 42-14 loss to the Eastern Kentucky Colonels in ASUN Conference action at Roy Kidd Stadium.


Playing without leading rusher Darius Hale, the Bears put up a little more than 300 yards of offense, and just 132 passing, after blitzing North Alabama for 733 total yards a week earlier. UCA turned the ball over twice with interceptions in the first half and then was outscored 21-7 in the second half.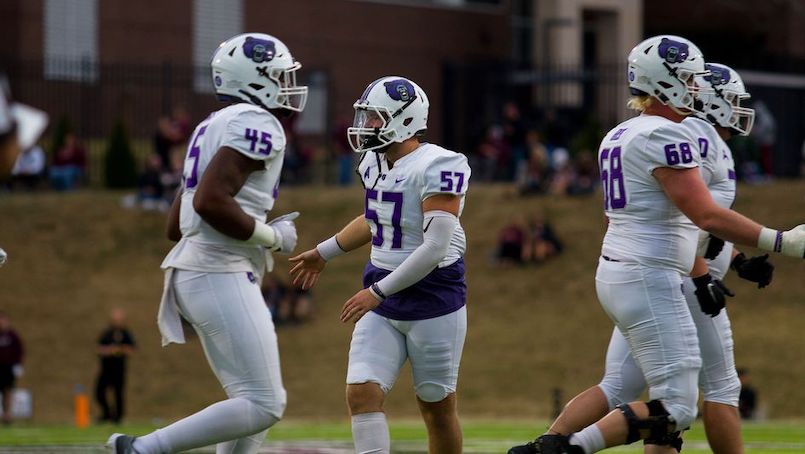 The Bears got their first touchdown of the night on a 15-yard run up the middle by backup quarterback Clifton McDowell at the 11.32 mark of the second quarter, capping a 5-play, 72-yard drive. McDowell, a 6-foot-4, 220-pound transfer from Kilgore College, was also part of UCA's only other score when he connected late with freshman tight end Jordan Owens for a 10-yard touchdown with 4:30 left in the game.

The Colonels (6-3, 2-1) turned a 7-7 tie into a 42-7 lead by scoring 35 consecutive points from the 4:53 mark of the second quarter to the 6:29 mark of the fourth period. EKU had rallied from a 35-13 deficit last season to beat the Bears 38-35, scoring the final 25 points of that game.

UCA's offensive struggles were surprising as the Bears had averaged 53 points over their past four games, including a season-high 64 in last week's win over North Alabama.

"It was like a storm hit us all at once," said UCA head coach Nathan Brown. "We've been so good and efficient on offense the last four games, but we didn't play very good. We had some self-inflicted wounds but give credit to EKU. I thought they played better than us and probably more physical than us for the most part, especially their defense on our offense.

"But we had some self-inflicted wounds, especially in that first half. Two interceptions got them down inside the five and they had short drives. And we couldn't overcome that. "

The two scoring drives by the Colonels following UCA interceptions were 1 play for 2 yards and 3 plays for 6 yards. For the night, EKU outgained UCA 469 yards to 328 yards and had a huge advantage in time of possession (35:35 to 24:25). 

UCA's T.D. Williams picked off his first pass of the season in the first half, thwarting an EKU drive at the UCA 11. Sophomore safety TaMuarion Wilson, the ASUN's leading tackler, led UCA's defense with nine tackles. 

"You thought coming out in the second half, we could right that ship and we just weren't able to do that. But give credit to Coach (Walt) Wells and that team, they're good, (quarterback) Parker McKinney is a stud. And their defense showed up tonight and got after us."

UCA is on the road again Saturday at a familiar site, facing Stephen F. Austin at 4 p.m. in Nacogdoches, Texas. The Bears and Lumberjacks were long-time foes in the Southland Conference through the 2020 season.