19 Aug 2018

UCA: Bears ready for continued success under Brown

Conference: Southland
Coach: Nathan Brown
'17 Record: 10-2

The UCA Bears lost in their opening week at Kansas State and never looked back from there, ripping off 10-straight wins and taking the Southland title outright. The Bears earned a first-round bye in the FCS playoffs, but fell in their first playoff game at home to New Hampshire, 21-15.

"2017 was a great year," said Nathan Brown, a former decorated UCA quarterback who takes over the program this fall. "I don't want to take away from anything that team accomplished and did. But we all know that we left unfinished business on the field. I think that team had a chance to make a deep run last year, and the ball just didn't fall our way in the end. We have a lot of the same guys on our team this year that tasted that Southland championship and success. We should have a lot to build on in 2018."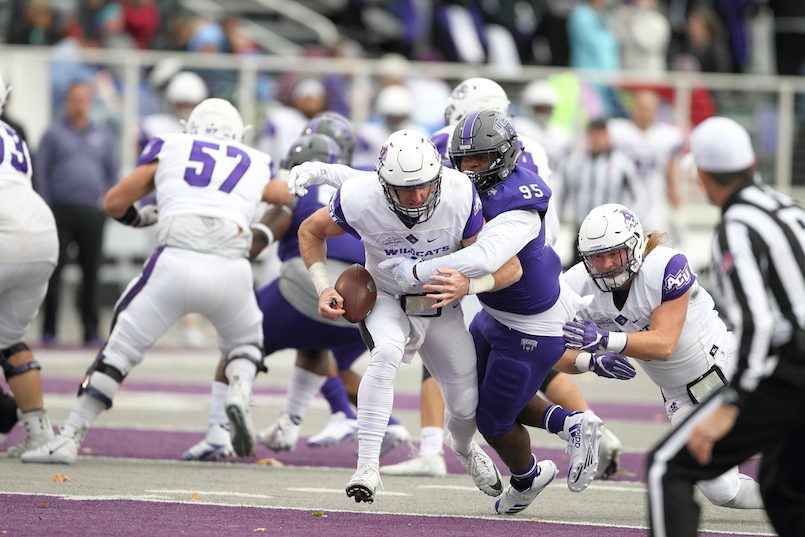 Former Conway High standout Breylin Smith takes over at quarterback. Starting running back Carlos Blackman returns. The junior rushed for 770 yards and nine touchdowns last fall. Returning senior starters Lester Wells and Jakari Dillard are back at receiver. Sophomore Brandon Myers gives the Bears a big receiving target in the end zone. Sophomore Josh Nix takes over the lead tight end spot. The Bears return just one starter on the offensive line — sophomore guard Adrian Harris. Other projected starters on the offensive line include Alex Bridges, Toby Sanderson, Curtis Parker and Hunter Watts. Senior kicker Matt Cummins made 13-of-18 field goals last fall.
"Offensively, we brought in, former UCA player and coach, Ken Collums as our offensive coordinator," Brown said. "He brings a multiple style offense that mixes the run and the pass well. I expect our unit to attack what the defense gives us and play fast football. We need to run the ball efficiently so that the pass game will open up. We have had a lot of success here in our offensive units, so we will mesh what we have done here in the past with what Coach Collums brings with him.
"The expectations and bar have been set high over the years for our offensive units. I don't expect that to change moving forward."
The Bears return a dynamic sack duo on the defensive line. Senior tackle Eric Jackson and junior end Chris Terrell both racked up 11 sacks a year ago. Sophomore A'Javius Brown gets the starting nod at noseguard in the Bears' 3-4 defense. Senior Raphael Garner recorded 47 tackles at linebacker in 2017. Seniors Dalvin Simmons and Reggio Dean and sophomore Jackie Harvell round out the starting linebackers. Junior Trai Mosley and sophomore Robert Rochell hold down the corners, and senior Michael Ware and junior Juan Jackson are back at the safeties.
"Defensively, we will keep the 3-4 defensive structure we have recruited toward and played with over the past four years. We will stop the run and control the pass with this unit. Our new defensive coordinator Max Thurmond has brought a new sense of passion and energy to that side of the ball. We return a really talented defensive line. That is the area we still have to be great at to make a more national push in the playoffs. I believe we have as much speed on that side of the ball as we ever have had. The bar has also been set high over the past couple years, and that will not change moving forward."
5 Players to Watch: 
Chris Terrell (Jr. DL)
Carlos Blackman (Jr. RB)
Breylin Smith (Soph. QB)
Brandon Myers (Soph. WR)
Juan Jackson (Jr. DB)
1 Must-see Game:
"First home game against Murray State. Hopefully when you come to that game and see what a fun place Estes Stadium is to be at on a Saturday night, you would want to come to the rest of the games." — Brown
2018 Schedule:
Sept. 1 at Tulsa
Sept. 8 Murray State
Sept. 15at SE Louisiana
Sept. 29at Sam Houston State
Oct. 6 Houston Baptist
Oct. 13 at Stephen F. Austin
Oct. 20 Northwestern State
Oct. 27 at McNeese State
Nov. 3Lamar
Nov. 10 Incarnate Word
Nov. 17at Abilene Christian