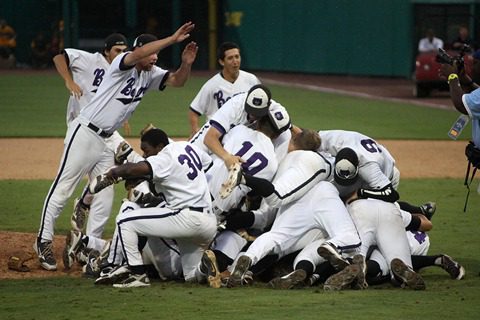 29 May

UCA Bears headed to NCAA tourney

The University of Central Arkansas Bears are headed to the school's first NCAA Regional after winning five straight elimination games to take their first Southland Conference baseball championship.


The win earned the Bears the league's automatic bid to the NCAA tourney.

The Southland Conference champions are bound for Starkville, Miss., for the second time this season and will face the Mississippi State Bulldogs in first round action. The game will begin at 7 p.m. Friday night at Dudy Noble Field in Starkville.


The UCA-MSU winner will face the winner of Mercer-South Alabama at 7 p.m. Saturday. The losers will play at 2 p.m. Saturday. The regional final is set for 7 p.m. Sunday.


The game will be shown live on ESPN3.


The Bears, who have won a school-record 39 games this season, took two of three games from the then-No. 3 ranked Bulldogs in Starkville in March. UCA lost the weekend opener 4-2, won 7-5 in 10 innings to even the series, then won the finale 7-3 to earn their first NCAA Division I national ranking.


"I'm really excited about the draw just for the fact that it's close enough that we're going to get a lot of fans,' said third-year UCA head coach Allen Gum. "And we've been over there before. But I know it will be an even bigger atmosphere this time. We went over there for a weekend series, and it was big, but there's no question this will be bigger.


"But I think the one thing with our guys, wherever we go or whoever we play, they've not been overwhelmed by going into big stadiums or playing big teams. So I don't think anything like that will affect them. The only thing now is, we'll have a target on our back. The last time we went in there, they were 18-0, ranked in the Top 5 in the nation. We just came right at them and played ball.


"But we talked about this last week, we need and want to be a program that has a target on our back."
The Bears entered last week's Southland Conference Tournament without much of a target on their back after finishing the regular season in a slump. But after losing their tournament opener to Texas A&M-Corpus Christi, the Bears reeled off five straight elimination-game victories to claim their first SLC championship and first NCAA Tournament bid.

And now they play the Bulldogs (43-17) on their home field again.

"Really, it's going to come down to the same thing it has all year,' said Gum. "If we pitch it well, play good defense, and do some good things on offense, move runners and get the timely hits, that's what it's going to come down to. Baseball is baseball."

On Monday, Gum was already looking at UCA's first-round matchup on the mound, sending right-hander Caleb McClanahan (10-5, 2.17 earned-run average) out first. The senior first-team All-SLC selection from Wynne came back on two-days rest to win Saturday morning's semifinal win over Oral Roberts.

"Caleb's been really good about that," said Gum. "Just come right at them, here it is. He's definitely led the charge for our pitching staff in that regard. He's shown that if you just fill that zone up and let your defense do the work, good things will happen. And I tell you, the rest of the staff, the ones that have done really well, have just followed his lead. He's just been a horse for us. I'm proud as heck for him."

Gum said he was as excited to see his players' reactions to the NCAA announcement as he was actually finding out their first opponent.

"The whole reason I got into coaching was to see players reach their goals, whether it be individually or collectively," he said. "We as coaches are just a part of it. We run side by side with them, and the great players actually outrun us. We can't keep up with them.

"But what's fun is all this started at 5 a.m. on the first day we could work out in the weight room. Just to see all their hard work, and the long grind of the season… just to see their faces when that name popped up there on the TV screen. There's not a better feeling than that."
UCA placed four players on the All-Tournament team, including freshman right-hander Connor Gilmore, senior third baseman Garrett Brown, senior catcher Michael Mariett and senior right fielder Forrestt Allday, who was named Most Valuable Player.

"(The MVP) obviously it's going to go to Connor Gilmore," said Allday. "He comes in and throws a complete game as a freshman. That's just huge. Going in, we kind of had an idea who was going to start this game. He came in and pounded the zone. He did everything we asked of him. I just can't say enough about him. He's going to be here for a couple of years, and watch out guys."

The other first-round matchup in the regional will be South Alabama (42-18) and Mercer (43-16). The winner of the Mississippi State Regional will face the winner of the Virginia Regional, which features the Cavaliers (47-10), Army (29-21), Elo
n (32-28) and UNC Wilmington (37-21) in the Super Regional.

The Bears last played in a national tournament in 1959 as a member of the NAIA.