01 Dec

UCA Bears fall 75-66 to Blue Hose

NEW ORLEANS — The University of Central Arkansas Bears followed a good shooting half with a poor one Friday and dropped their finale in the UNO Classic, falling 75-66 at Lakefront Arena.


The Bears (1-6) shot 54.2 percent from the field in the opening half and trailed by just two points (37-35) at halftime. The shooting went south in the final 20 minutes, as UCA went 12 of 31 (38.7 percent) overall and just 2 of 11 from three-point range.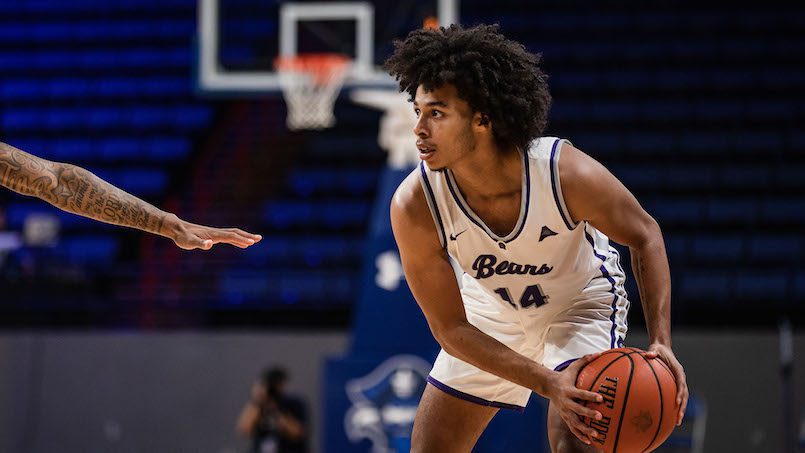 "I told the guys just now, I have confidence in every one of our guys taking shots from outside," said UCA head coach Anthony Boone. "They're just not falling for us. But until that happens, we've got to get better defensively, we've got to get better rebounding, and we have to finish around the basket better.

"And we did a pretty good job of that today. We scored a lot in the paint today, and yesterday also. So that's a good sign going forward for when our shooting finally hits like it should. We'll be a lot to deal with."

The Bears got another solid outing from freshman point guard Camren Hunter, who had 16 points, 6 rebounds, 5 rebounds and 2 steals, which were all team highs. 

"Cam really brought it today," Boone said. "And that's two games in a row, and two days in a row, that he had to gut through and play a lot of minutes this week. I can't say enough positive about Cam. He didn't shoot it as well from outside, but he certainly was great defensively and great leading us on the floor."

Sophomore guard Collin Cooper added 15 points, hitting 3 of 8 from three-point range. Junior transfer Darious Hall, who played only six minutes in the Thursday, Nov. 25 game due to back spasms, started and played 30 minutes Friday, scoring 9 points and handing out 3 assists.

"He really gutted it out," Boone said. "I came into today thinking we probably weren't going to have him. But just before the game he said I can go. So, I said, 'OK, we'll start you and see how you look.' I didn't want to take him out at first because I didn't want him tightening up, but eventually I needed to. He was in a lot of pain but he fought through because he wanted to be there for his teammates. 

"And had a pretty good game," he said. "More than anything, he had great leadership on the floor. And that kind of kept us together when Presbyterian was making runs."

Junior Eddy Kayouloud scored 8 points off the bench, including converting on three inbounds plays.

"Eddy is a load to deal with," said Boone. "You can't guard him with a post guy, you can't guard him with a guard when he's playing well. The guys out on the floor actually saw some things to exploit, so they did a good job with that."

Rayshon Harrison led the Blue Hose (5-2) with 28 points, hitting 5 of 10 three-point attempts and 7 of 8 at the free-throw line. Presbyterian was 18 of 26 at the line while UCA was 11 of 14.

UCA played three games in three days in New Orleans.