09 Oct 2012

UCA athletics joins own in fight against breast cancer

The University of Central Arkansas athletic department joined one of their own on Monday in the fight against breast cancer.


Several members of the athletic administration and coaching staff, including director of athletics Dr. Brad Teague, got new haircuts to support the department's administrative assistant Milisa Moore, who is currently going through chemotherapy for breast cancer.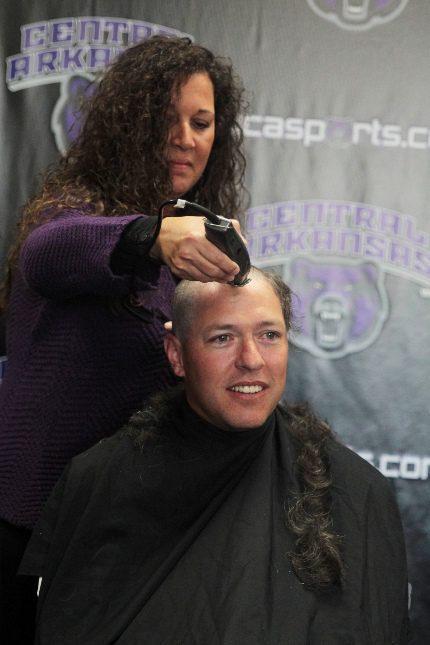 Teague was joined by several members of the athletics administration and coaching staff who are "going bald" to support Moore in her battle.

"Support and awareness for this disease seems to be growing annually,' said Teague. "More and more college and professional sport teams are wearing pink to raise awareness. Our department staff put together a great month of awareness projects for the cause involving our coaches and student-athletes, as well as our fans and supporters.

"Having someone in our department, who we are all very close to and fond of, makes our work that much more meaningful and directed.'

October is Breast Cancer Awareness Month and the UCA athletic department has a series of events planned to raise money and awareness for breast cancer research. "Kick for a Cure" events will be held at men's soccer (Oct. 17) and women's soccer (Oct. 19) matches. "Ks for a Cure" will be held at the softball game on Oct. 20, while "Digs for a Cure" will be held at the volleyball match on Oct. 13.
Campus groups and greek organizations will be participating through "Save a Lid, Save a Life" and "Campus for a Cause" initiatives.

All the individual events fall under the overall campaign called "Bears for a Cure." T-shirts, pizza and pom pons will be sold at all of the athletic events, with the proceeds going to the Conway Regional Health Foundation. A check will be presented to the CRHF at the UCA homecoming football game on Nov. 3.

Breast cancer is the second-most frequent cancer among women and the second-most deadly form of cancer. One in eight women in the U.S. will be diagnosed with breast cancer, while only 5 to 10 percent will have a clearly defined genetic predisposition for the disease. Approximately 200,000 women in the U.S. alone will be diagnosed with invasive breast cancer this year, and another 50,000 with the non-invasive type.

There are approximately 2.5 million breast cancer survivors alive today in the U.S. alone.

For more information on UCA Athletics' breast cancer awareness month campaign, visit ucasports.com.