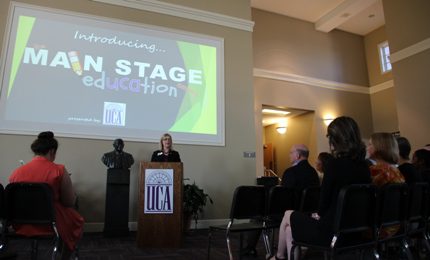 11 May 2015

UCA announces Main Stage EdUCAtion Series

Posted at 1:59 PMh

in

News

The University of Central Arkansas will begin a new performing arts series for K-12 students in Central Arkansas.

The Main Stage EdUCAtion Series will start during the 2015-2016 academic year and reservations will be taken on a first come, first serve basis. Performances include "Fancy Nancy: Splendiferous Christmas!", "Walk On: The Story of Rosa Parks" and "Doktor Kaboom in LIVE WIRE: The Electricity Tour!"


The series connects children, teachers and schools with performing arts in meaningful ways that complement the school curriculum while introducing the students to live theatre. Each performance is carefully selected to be entertaining while educating the audience on an academic topic.


"Exposure to the arts contributes to the overall social and cognitive development of children," said UCA President Tom Courtway. "Performing arts provides students with a creative outlet of expression that can improve academic achievement, adapts to a wide variety of learning styles and develops diverse multicultural perspectives."


It will also serve as an aid to local educators in their efforts to integrate arts into the school curriculum. All shows will be performed by professional, national-touring artists that will provide high quality performances.


"We are thrilled to introduce this new program that will increase access to the arts for schools in Central Arkansas," said Reynolds Performance Hall director of public appearances Amanda Horton. "The arts can improve academic performance, enrich the lives of our students and enhance the cultural viability of a community."


Students will be charged $5 per ticket and schools may apply for a limited number of ticket vouchers for low-income students. School groups will receive one free adult chaperone ticket per 10 student tickets purchased. Additional adult tickets may be purchased for only $10.


For more information, call Amanda Horton at 501.450.3265.