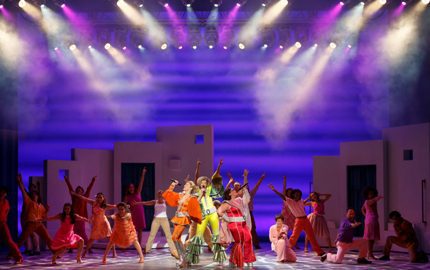 14 Dec

UCA adds second performance after 'Mamma Mia!' sells out

by Carley Conrad


The long-running hit musical "Mamma Mia!" will visit the Donald W. Reynolds Performance Hall at the University of Central Arkansas for two performances in February.


The original date — Monday, Feb. 15 — sold out quickly, so UCA Public Appearances has scheduled a second show for 7:30 p.m. Wednesday, Feb. 17.


"The Central Arkansas community has been requesting for years that we add 'Mamma Mia!' to our Broadway series," said Amanda Horton, director of UCA Public Appearances. "The show became available for single booking nights this year, and the routing was coming near Conway, so it all worked out in our favor.


"Once we announced the season, the Mamma Mia! tickets immediately began selling, and we quickly sold out. So we worked with the company to add another show so that more of our community could see this popular performance."


Mamma Mia! is the ultimate feel-good show that combines ABBA's greatest hits with an enchanting tale of love, laughter and friendship. Writer Catherine Johnson brings the funny tale of a daughter's quest to discover the identity of her father to the stage. On the eve of the wedding, her quest brings three men from her mother's past back to the Greek island paradise they had visited 20 years earlier.


Tickets are $30-$40 for the general public and $10 for students.


For tickets, call UCA Ticket Central Box Office at 501.450.3265 between 10 a.m. and 4 p.m. Monday through Friday or toll free from anywhere in Arkansas at 1.866.810.0012 or visit uca.edu/reynolds.