25 Jul 2012

UCA adds disc golf course

by Mark Oliver


Conway disc golf players no longer have to drive more than 30 minutes to play the sport they love.


A grand opening was recently held at Bear Trail Disc Golf Course. Located beside the physical plant on the University of Central Arkansas campus, Bear Trail is free to use, is open to both UCA students and the general public and has no required tee time. 
Beginning as a senior Honors thesis proposal to the UCA Student Government Association, the SGA approved funding the course in early 2011, citing its cost-to-benefit ratio. However, there were still some challenges to overcome for the disc golf advocates.


"We had to work with the biology department extensively to map the holes in order to make sure that we did not intrude upon the nature reserve and ecologically important areas," said UCA Disc Golf Club president Hunter Taylor.


Although Bear Trail currently has just nine holes, the course can prove to be quite a challenge to even the most advanced disc golf players.


"The course is a difficult course — one of the most difficult in Central Arkansas," Taylor said. "There is a lot of brush for your disc to get stuck in. I typically advise people that the brush is thick with thorns, snakes and fire ants. There is also a creek that runs along four of the holes, adding an extra degree of difficulty to the course."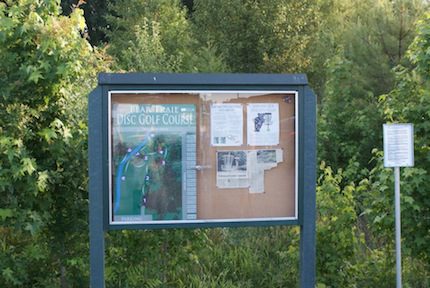 Since its opening, it is estimated that 20-50 people use the course each day.

"I have people asking me how to join and participate every day," Taylor said. "I've been [on the course] nearly every day and have yet to be out there without spotting another group using the course."

In the future, Taylor hopes to expand the course to a full 18 holes. Next year, UCA plans to form an official team and participate in collegiate competition against other schools.

"Disc golf is not only growing as a sport, but is growing significantly among college-aged people," Taylor said. "I am hoping that [the course] will help increase enrollment for UCA by enticing prospective students. I am also hoping that, with an 18-hole course, we can host statewide and national collegiate disc golf competitions. If UCA had a championship course on campus, we would be able to bring more schools to our own campus."

Disc golf is a relatively low-cost sport, with most discs ranging from $8-20 each.

"A beginner typically only needs two discs: a driver and either a putter or mid-ranged disc," Taylor said. "Thus, someone could have everything they need to play on any course for around $25."

For more information on Bear Trail and UCA Disc Golf Club, visit the group's Facebook page at "UCA Disc Golf Club," at facebook.com/groups/183362198452102.