20 Jan

UACCM student pursues career goals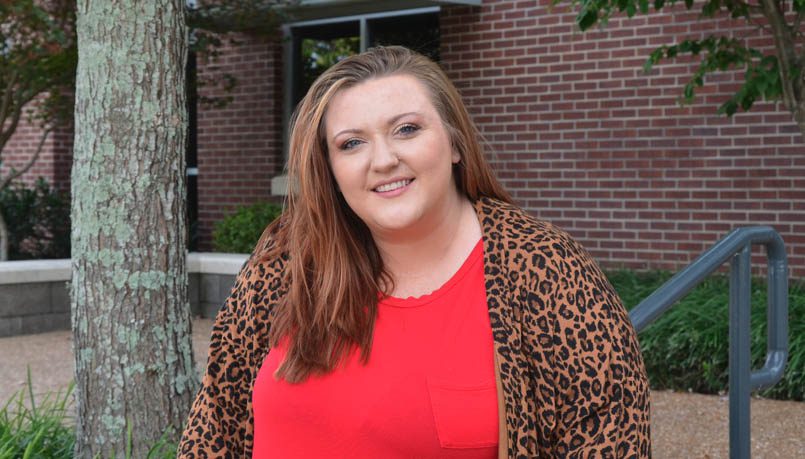 by Jared Craig
Opportunities do not arrive all at once. For Kaitlyn Wright, they came through everyday actions from a supportive community.
As a nontraditional student at the University of Arkansas Community College at Morrilton (UACCM), she's one of the millions of students who defies the perceptions of college students portrayed in mass media. She is a first generation college student and works to pay her way through school. Not everything came easy; as she puts it with good humor: "It's been a long journey." 
She went to Greenbrier High School and graduated as part of the SWIS program, which allows independent-minded students more flexibility to complete their high school education. She had aspirations to be a photo journalist, although she didn't know how exactly to enter the field at the time. "I didn't know how college worked," she said.
Right after high school, she left her family's house and did what is best described as couch surfing. When she went to a church camp as a volunteer, she confided to a friend what was happening.
"I told her what was going on and that I was homeless. She led me in the right direction, and I called Bethlehem House (in Conway)," she said. 
She found out she was pregnant at the beginning of her short stay at Bethlehem House. "That was a big thing because I was trying to get my life together at that point," she said. "And then when I found out I was pregnant, it changed everything." 
Back then as a single mother, she felt that the statistical odds would hold her back from accomplishing her goals. "I never thought that I would go to school. I never thought I'd do anything," she said. "I didn't even know how to apply for college."
Since she grew up on a farm, her parents drilled her about the value of hard work by example. She juggled jobs in food service, retail and a call center, although she felt like she was not gaining the needed experience to develop a career. On some days, she had to take her son to school and get to work by taxi, which added more expenses. "I was making enough to live, but I didn't have enough to get ahead," she said.
Her outreach to community resources exemplified the principle that the village takes care of its own. She got housing assistance from Deliver Hope, a non-profit dedicated to at-risk youth, which provided her with an apartment. She got childcare from Conway Cradle Care, which also provides mentoring to teenage parents.
After meeting with a representative from the YES Program operated through UACCM Adult Education, she got jobs at the Morrilton Housing Authority, a temporary placement where she gained office experience, and the D&R Railroad Company, where she learned a range of tasks, from putting together an invoice to the process of switching rails.  
She took classes at UACCM's Adult Education program and earned workforce readiness certificates on employability, customer service and office technology. The Arkansas Workforce Alliance for Growth in the Economy (WAGE) classes are designed to give job seekers a chance to develop their skills, and she found them beneficial.
"I think everybody can use it," she said. "You learn so much and on things you need to know. You filled out your resume, learned about banking, and took simulators on what to do during situations common in jobs."
She eventually got hired as an administrative specialist at the college in the general education department, and she now presents on the value of workforce training. In August 2019, she spoke at the West Central Arkansas Planning and Development District meeting in Hot Springs on "How Workforce Changed My Life."  
During the fall 2019 semester when she first enrolled at UACCM, she registered for three classes. Along with her job and childcare, she had a full workload. 
"It's a lot, but it's doable. It's not overbearing," she said. "Instructors work with you, and they are understanding. That comes with being in a community college. The support system is huge."
As she's working toward an associate's degree, her career goals have shifted to occupational therapy so that she can give back and serve the community that once helped her. She got the idea after her son was diagnosed with Sensory Processing Disorder. Taking him to therapy sessions and seeing how specialists worked with him and other children convinced her.
"I like to be somebody who is caring about kids. That's more than a job," she said.