30 Sep

UACCM student claims silver in national competition

By Abby Sanders

For Shamard Thomas, hard work and persistence are key to success. Thomas, a recent graduate from the Computer-Aided Drafting and Design Technology program at the University of Arkansas Community College at Morrilton, has been honing his craft long before coming to UACCM.

"My initial introduction with SkillsUSA was during my 10th-grade year of high school when I had just begun taking architecture and architectural design seriously," said Thomas. "The organization was introduced to my fellow peers and I on the first day of our drafting class by our teacher, Randy Wiedmaier. After learning about the organization, what they represented, and what the competitions held for my trade, I was hooked."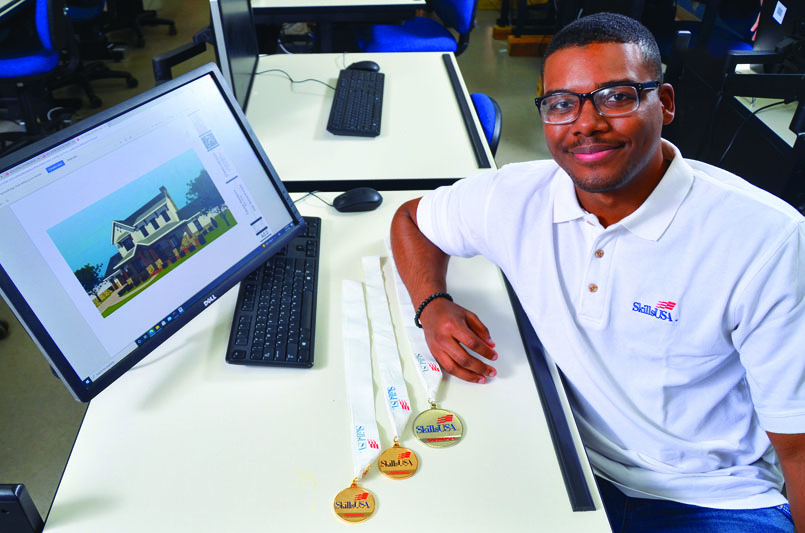 SkillsUSA is a partnership of students, teachers, and industry working together to ensure America has a skilled workforce. The association offers 107 competitive events that invite competitors to showcase their skills and tackle real-world problems. Students at UACCM can join the SkillsUSA Club and participate in competitions that align with their coursework and future occupation. Additionally, students that place first in a state SkillsUSA event receive a $1,000 scholarship to UACCM.
The 2021 SkillsUSA Championships were held virtually from June 14-24. Thomas competed in Architectural Drafting, earning second in the nation. More than 3,700 students from every state in the nation competed in the championships, making it the largest skill competition in the world.
"For the Architectural Drafting competition, competitors are first given a written test," Thomas describes. "SkillsUSA's mission includes creating smart and passionate individuals who will become the new workforce, and the competitions try to represent and replicate the industry standards for each trade. For the main portion of the competition, all competitors are given a prompt, which will include a scenario describing an issue that needs to be solved whilst also providing restrictions and guidelines for the project." The competition simulates a day in the workforce, lasting a full eight hours with a lunch break in the middle. Competitors are given additions and changes during the competition, much like they might experience when working with clients. At the end, they present their plans to scrutinizing judges who ensure the accuracy and feasibility of the final project.
"Shamard was a wonderful student," said Kristen Karetov, CADD Technology instructor and SkillsUSA Club sponsor. She was thrilled knowing that this is the best placement that a UACCM student has ever achieved at the national competition. Karetov stated, "I knew that he was in the top nine because of an email we had received alerting us to his placement, but then on the night of the awards, we learned he placed second. It was surreal. This award helped put the CADD Tech program on the map for UACCM. It let us know that we are doing something right with our students."
Thomas attributes his success, in part, to his time at UACCM and to Karetov, his instructor. "UACCM gave me a place to learn and hone-in on my skills as a designer and drafter. This university was able to provide me the tools that I needed in order to become successful in my field of study and be able to place second in the country among peers in my trade. My advisor, Mrs. Karetov, played a huge role in my success at the SkillsUSA competition and my success here at UACCM in general," said Thomas. He also recounted personal hardships he was facing when he came to UACCM, dealing with family illness and leaving what he thought was his dream school behind. At a time when he had stopped pushing toward his career goals, Karetov kept him on track and pushed him to compete in SkillsUSA and keep working toward his dream. "She believed in me when I didn't believe in myself," said Thomas, "and for that I am thankful."
To learn more about the CADD Technology program at UACCM and the opportunities it can provide, visit uaccm.edu/academics/degree_prog/drt.html.