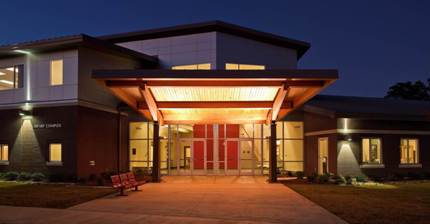 12 Aug 2013

UACCM gearing up for fall

Posted at 1:13 PMh

in

News

It's not too late to enroll in fall classes at the University of Arkansas Community College at Morrilton.

Throughout the summer, UACCM has made many changes, additions and improvements to ensure the highest quality learning experience for its students.


Classes at UACCM begin Monday, Aug. 19, and students can enroll in classes through Friday, Aug. 23, provided the class has not yet met. Tuition is due at the time of registration by paying in full, establishing a payment plan or utilizing financial aid. Students may make charges to their financial aid up to twice at the University Bookstore until Monday, Aug. 26.


UACCM offers technical, career and transfer degrees to students of all ages. Some students may want to complete short-term training programs and quickly enter the workforce armed with solid career skills through technical programs including air conditioning, heating and refrigeration; automotive collision repair; automotive service technology; business; computer information systems; dietary management; drafting; early childhood education; emergency medical technician; nursing assisting; petroleum technology; practical nursing; registered nursing; surveying; and welding.


Others might want to build a strong academic foundation by earning transfer degrees at a small, affordable and comfortable campus setting in the areas of business, general education, general studies, liberal arts and teaching (preschool and middle school).


While the faculty and staff are still dedicated to giving students a personalized, comfortable experience at UACCM, the offerings at the college are constantly changing to better prepare students for their future careers.


UACCM Chief Information Officer Mary Clark said, "One of the great strengths of a community college is its ability to respond rapidly to the evolving needs of the community. As the skills set and technology required by business and industry change, UACCM continues to further expand and adapt its curriculum to help foster continued economic development. This includes creating accelerated degree programs for faster completion and forming innovative partnerships and consortiums with other educational institutions, businesses, and industry to further expand access and options available to students."


Other changes have also been made at UACCM in addition to improvements in curriculum. Among the most visible is the construction of Timberwolf Crossing, a sidewalk project funded by a grant from the Arkansas State Highway and Transportation Department located along the north side of campus near University Boulevard.


Another improvement that is less visible to passersby is the college's new Academic Commons, an area in the library complex specifically tailored to better assist students. The Academic Commons provides and combines three of the college's existing services: the E. Allen Gordon Library, tutoring services and a science study lab. The idea to combine these services into one department came about from student comments. Students voiced their need for a place to go on campus during the evenings to study. All three departments were receiving requests for extended hours. With limited funds, college administrators knew that the school's budget could not accommodate staffing all three departments in the evening. By combining these services into one physical area, the cost to keep them open in the evening became affordable.
Hours of operation for the Academic Commons include 7 a.m. until 8 p.m. Monday through Thursday, 7 a.m. until 5 p.m. Friday and noon until 4 p.m. Saturday.

That is the practical reasoning behind the change. Library Director Rebecka Embry commented on the convenience factor of the collaborative project. "Now when students gather their research materials in the library, a writing tutor is available to help and review their writing. Library services, tutoring services and the science study lab seem to complement each other, and we think it will be more convenient for students to have them all in one space."

The college's "Give Meaning" capital campaign has also taken large strides this summer with Miles Lacy agreeing to chair the campaign. The project will eventually lead to the addition of a Workforce Training Center on campus that will allow for expansion of many of the technical programs offered at UACCM.

These are just some of the many ways that administration, faculty and staff have worked to improve the quality of education and related offerings available at UACCM throughout the summer.

Admissions counselors are available by phone at 501.977.2053 to answer questions or to help students enroll today. Call for more information or visit uaccm.edu.