03 Jan 2021

UACCM, ATU sign transfer agreements

The University of Arkansas Community College at Morrilton (UACCM) and Arkansas Tech University (ATU) have signed eight new 2+2 transfer agreements, allowing students to have a seamless transfer process from UACCM to ATU in specific degree areas.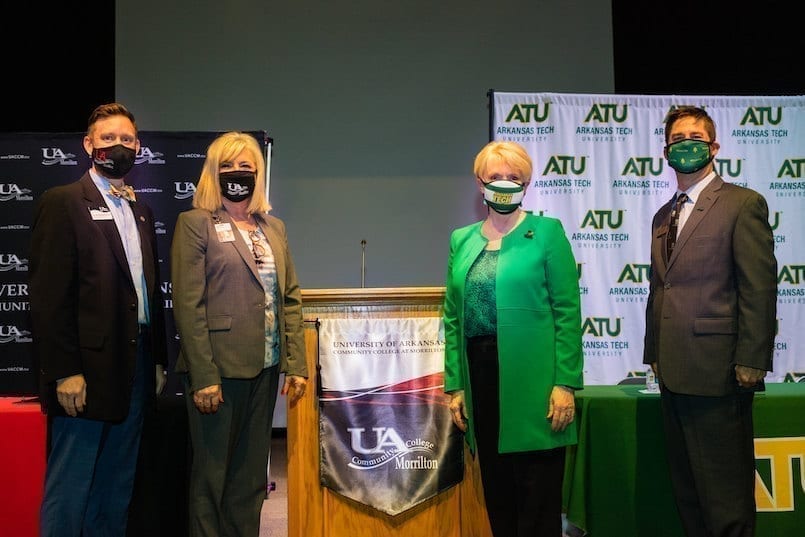 The memorandum of understanding, signed by UACCM Chancellor Lisa Willenberg and ATU President Dr. Robin E. Bowen, took place Dec. 10 at UACCM's Fine Arts Auditorium.
"ATU is committed to creating seamless transfer opportunities for graduates from two-year colleges," Dr. Bowen said. "We are pleased to have the opportunity to partner with UACCM to provide its graduates with a pathway to continue their studies in pursuit of a baccalaureate degree. Partnerships such as this one help Arkansas produce a well-trained, adaptable workforce and drive economic development."
Under the agreement, UACCM students will enter a structured plan, providing a clear pathway to both an associate degree at UACCM and a baccalaureate at ATU. These agreements cover certain academic majors at ATU, including accounting, criminal justice and criminology, elementary education, psychology, sociology and three business administration tracks.
To be eligible, UACCM students must earn the appropriate associate of arts or associate of science related to ATU's majors and have a 2.0 cumulative grade point average. Students pursuing one of these agreements will have access to UACCM's academic counselors to enroll in the correct courses and to ensure a smooth transfer process.
"Throughout the past three decades, thousands of students from the River Valley area have taken advantage of the education and skills training presented by our institutions, and partnerships of this nature will only increase those opportunities, which in turn will further strengthen the region's workforce and continue to vastly improve the lives of those in our area," Willenberg said. UACCM and ATU currently have 9 existing 2+2 transfer agreements benefiting students across the region. These 2+2 plans are enhanced agreements that go beyond the Arkansas Course Transfer System (ACTS), which guarantees the transfer of applicable credits among all Arkansas public colleges and universities.