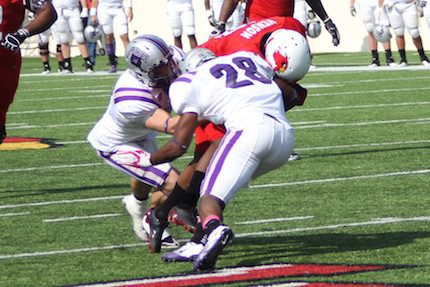 11 Jul 2012

Two UCA players named to Preseason All-America Team

University of Central Arkansas linebacker Seth Allison and safety Jestin Love were named on Monday to The Sports Network FCS Preseason All-America third team.

Allison is a graduate linebacker from Stuttgart, while Love is a junior safety from West Memphis.


Allison, a second-team All-American and a first-team All-Southland Conference selection last fall, led the Bears with 110 tackles, good for fifth in the SLC. He was No. 2 in the league in tackles for loss with 15.5 and also added four sacks, two interceptions, two forced fumbles and one fumble recovery. Allison was also an SLC All-Academic selection.


Love was a second-team All-SLC selection last fall after finishing tied for second in the league in interceptions with five, with one returned for a touchdown. He was seventh in the SLC in pass breakups and now has 11 career interceptions, and three returned for touchdowns, in just two seasons at UCA.


The Southland Conference tied for second among FCS conferences with 14 selections to the All-America squads.