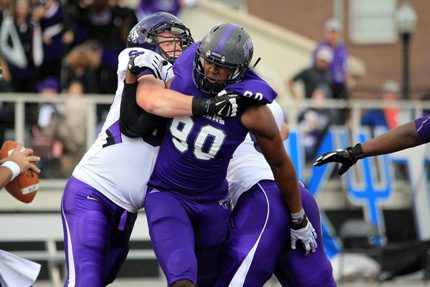 02 Jul 2014

Two UCA players named All-Americans

University of Central Arkansas players Jatavious Wilson and Jonathan Woodard were tabbed as preseason FCS All-Americans by The Sports Network.

Wilson, a 5-foot-9, 171-pound sophomore wide receiver/kick returner from Bastrop, La., was named a third-team kick returner. Woodard, a 6-6, 271-pound defensive end, was a third-team defensive selection.


Wilson was second in the Southland Conference in kick returns a year ago, averaging 30.6 yards per return. He also caught 41 passes for 409 yards and two touchdowns and returned 19 kickoffs for 581 yards, with two more touchdowns. Wilson was a two-time winner of the SLC Special Teams Player of the Week honor.


Woodard, a first-team All-SLC selection in 2012 and 2013, was the SLC Freshman of the Year in 2012. Last season, he led the league in sacks with eight, forced two fumbles, recovered one and had 10.5 tackles for loss. Woodard finished the season as UCA's third-leading tackler with 49 stops. He is been selected for the College Sports Performance Awards watch list for defensive ends.


The Bears open the 2014 season at Texas Tech on Saturday, Aug. 30, in Lubbock, Texas.