31 Jan 2023

Two hearts for the arts

By Carol Rolf

Love blooms in the home of Conway artists Steve Griffith and Vivian Noe Tallman Griffith. They share a love for each other and their family, their community and, most assuredly, their art. A brief tour of their house reveals a wide variety of their artworks, with practically every wall filled with pieces of their unique art.

"We are blessed," Steve said. "Art is not just a hobby for us. It's our passion and our livelihood."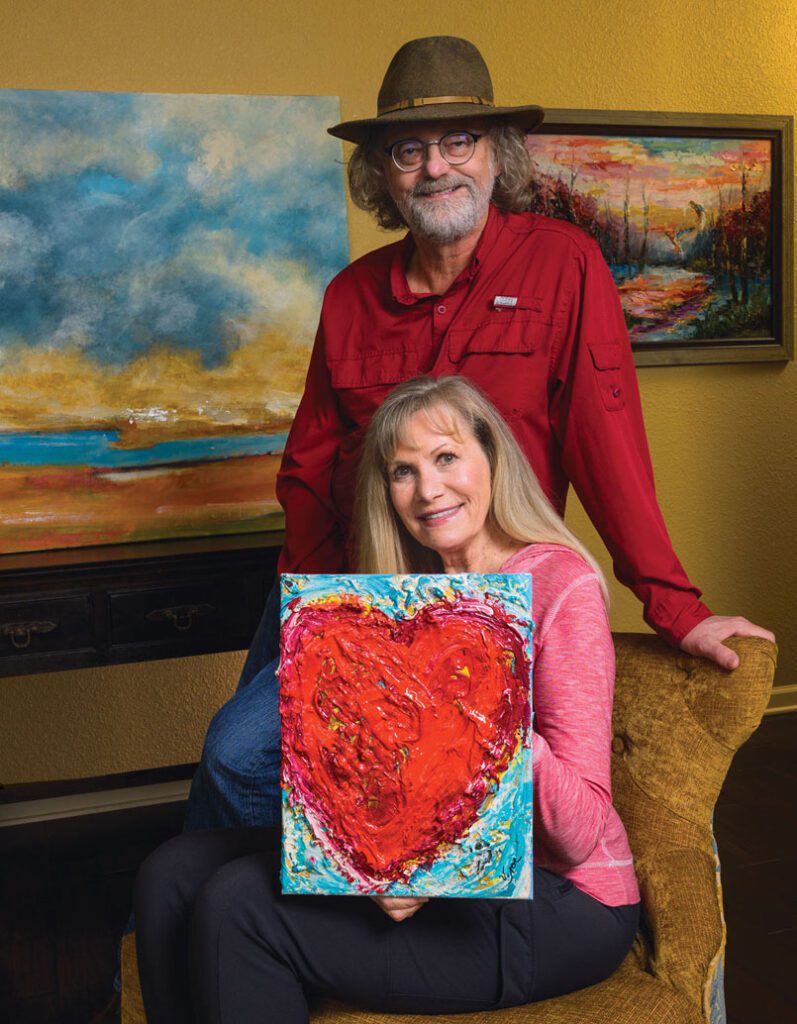 Steve studied art in college for a semester but then changed his focus to psychology, earning a master's degree in psychology from the University of Central Arkansas. He practiced psychology for 14 years, combining psychotherapy and art therapy for patients ranging from children to older adults. He gave up that career in 1996 and began painting professionally in 1997.
Vivian, who took dance and art classes when she was younger, majored in education at UCA and was a speech therapist as a special education resource teacher in the Vilonia School District for several years before turning to art full-time. She began painting professionally in 2005 and signs her art with her maiden name, V. Noe.
"We were good friends and co-workers before we were married," Vivian said, noting their first date was to what was then known as the Arkansas Arts Center in Little Rock. This museum is expanding and is scheduled to open later this year as the Arkansas Museum of Fine Art. "I told people that if the date turned out to be a dud, at least I would get to visit the arts center," she said, laughing.
The Griffiths have been married for 25 years. They have a blended family of four adult children, four grandchildren and three "bonus" grandchildren.
Steve, who was born in DeQueen, is primarily a plein air artist, meaning he normally paints outside observing nature and putting what he sees on canvas. He often refers to those creations as his "impressionistic paintings." He also creates large pieces of abstract art, using canvases that measure 36 inches by 72 inches and feature large, bold, colorful strokes that interior designers like to use in offices, he said.
Vivian, who was born in Arizona to a military family but calls Arkansas home, prefers to work with mixed media on canvas, creating abstracts, landscapes and figurative works; she is especially fond of painting hearts and crosses as well as beach scenes. She is working on a book that will feature angels and hopes to have it in print by November.
"It's a fun book," she said. "An uplifting book, a motivational book that I hope will be enjoyed by children and adults."
The couple finds inspiration for their art as they travel. They especially enjoy traveling to the Rocky Mountains and the Pacific and Atlantic coastal regions and make these trips in what they call their "art mobile."
"It's a toy hauler that we've made into an art studio," Steve said, laughing. "We don't haul motorcycles, just paints, canvases and easels. We also have sleeping and eating facilities in it."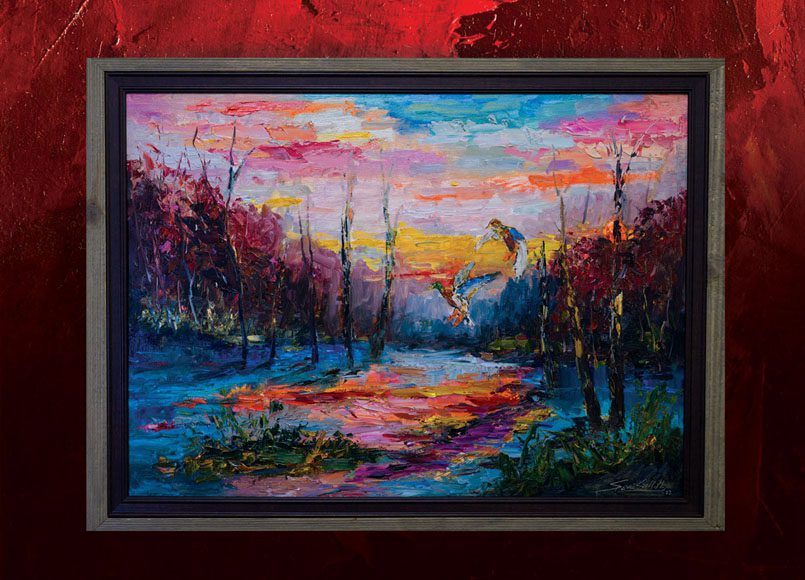 When the couple started painting professionally, Steve said they were represented by a variety of galleries. Today they sell most of their art through social media. "You post your finished work online, and the next thing you know, there's a buyer and money in your bank," Steve said.
Steve is known for his "live paintings" that are donated to charitable causes. He shows up at the function and creates a painting, which is auctioned at the end of the evening with proceeds going to the charity.
Two of those charities are Alzheimer's Arkansas and the Children's Tumor Foundation.
"Steve and Vivian are just wonderful people," said Melissa Longing of Conway, who is a board member of Alzheimer's Arkansas. "They do so much for our community."
Longing said the advocacy group will sponsor Cruisin' for Alzheimer's Care on Feb. 18 at Conway Country Club. "Steve and Vivian come to this annual event, and he paints on site," Longing said. "We use that painting as a live auction item. It always brings one of the highest prices of any item."
Dr. Anne Trussell of Conway is a member of the Arkansas Advisory Board for the Children's Tumor Foundation. She has hosted a Wine and Art Party for several years to raise money for the nonprofit. "I first met Steve and Vivian through friends who collected their art," Trussell said. "I asked them about doing a painting to help us raise money for the foundation.
"Steve and Vivian are just the best with ideas," she said. "They just jumped right in and helped with everything, and we raised more than $100,000. They are the loveliest people you would ever want to meet," she said.
"Like many, I've become a collector of their art. I have more than 40 pieces."
Find them on Facebook at V. Noe Artist or Steve Griffith Studio.