04 Aug 2021

Two Bears named to Walter Payton watch list

CONWAY – Two University of Central Arkansas Bears were named to the 2021 Walter Payton Award Watch List yesterday.

Junior quarterback Breylin Smith and sophomore wide receiver Tyler Hudson were two of the 35 FCS players named to the list. Hudson was also a finalist for the award in 2020-21. The award, named for Hall of Fame running back Walter Payton (Jackson State), goes to the national offensive player of the year at the FCS level and is presented by Stats Perform.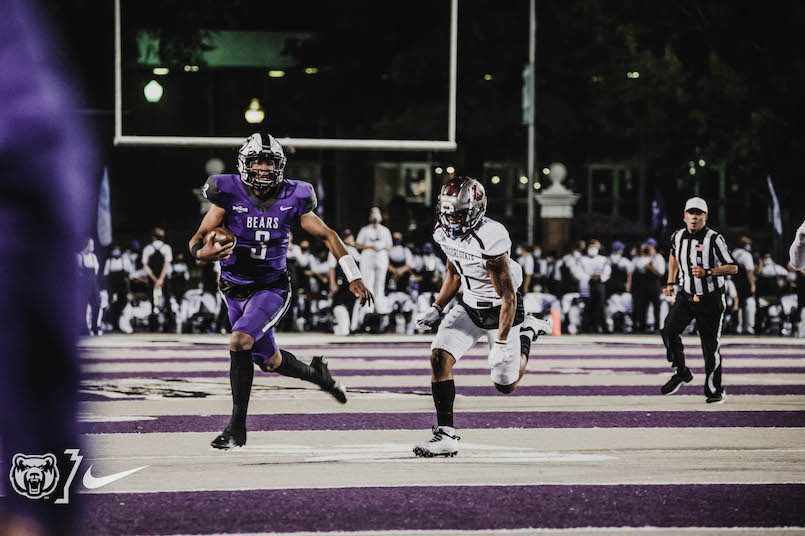 Smith, a 6-foot-3, 210-pounder from Conway, ranks fourth in school history with 6,652 passing yards and 58 touchdown passes. His 570 completions and 919 attempts both rank third in UCA history. Smith is a preseason first-team All-ASUN selection who threw for 1,861 yards and 19 touchdowns in eight games last fall in UCA's final season in the Southland Conference.
Hudson, the Fall Offensive Player of the Year in the SLC last season, led the Bears with 50 receptions for 845 yards (16.9 yards per catch) and seven touchdowns last fall. He was also a first-team All-SLC selection as a punt returner. In 2019, Hudson was the SLC Freshman of the Year.
More players can join the watch list during the regular season, and a national media panel will select the winner following it. First awarded in 1987, the Payton has watched past winners such as Steve McNair, Tony Romo, Brian Westbrook, Jimmy Garoppolo, Cooper Kupp and Trey Lance move on to the NFL.
Also this season, Stats Perform will present the Buck Buchanan Award (FCS defensive player of the year), Jerry Rice Award (FCS freshman player of the year), Eddie Robinson Award (FCS coach of the year) and Doris Robinson Scholar-Athlete of the Year.
The Bears open their 11-game 2021 season on Sept. 4 at Arkansas State. UCA's first home game is Sept. 18 vs. Arkansas-Pine Bluff on "The Stripes" at First Security Field at Estes Stadium.