31 May

Twins for the Win

By Colleen Holt

Evan and Caroline Appleby of Conway are typical middle school kids – they enjoy spending time outside, playing video games, and basically giving each other a hard time. What's unusual about them? They're twins.

The children of John White and Stepheni Appleby, Evan and Caroline are sixth-graders at Simon Middle School. The family has been in Faulkner County since 2014, moving from Greenbrier to Conway in 2017.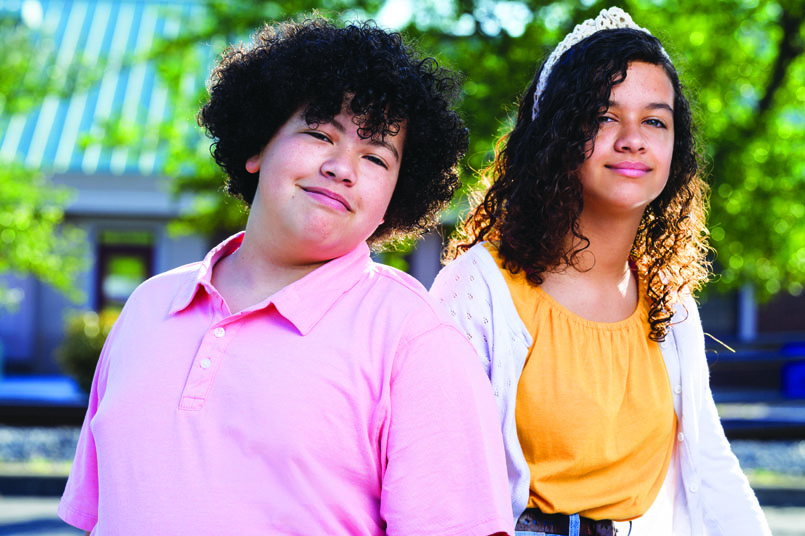 Since then, the twins have gotten involved in their community in many ways. For instance, each winter their family helps support the homeless population by participating in The Van's sock drive and a variety of blanket and food drives. "They're pretty passionate about that," Stepheni said.
After they spend the day at school, Caroline said they like to come home to "chill around playing video games, and we really love to read. We both have basketballs, and we like to go outside and pass those around to each other." Caroline is currently very interested in a book she's reading called "Midnight Sun." The Appleby twins also spend time growing a garden, which Evan said gives him a chance to spray his sister with the water hose.
Evan is particularly fond of 501 LIFE Magazine, having read it since he was in kindergarten. "The first one I remember was an anniversary issue with a cake on it. The 501 LIFE Calendar of Events is a favorite place for the twins to look for activities to do, they said.
Caroline and Evan both love to swim at Greers Ferry, as it gives them a chance to spend time with their Mimi — also known as Stephanie Cooper. The family plans to take a summer trip to the lake, Evan said. "It's so perfect up there," Caroline added. Other trips they have taken around Arkansas include Hot Springs. The family has a goal of doing the Arkansas State Parks loops this summer.
At school, the twins both enjoy social studies, with Evan adding in science as another favorite. Caroline said she really likes the unit on ancient Rome they are studying now and that social studies "is the most intelligent part in my brain." She would like to be a writer of histories. Evan, on the other hand, enjoys learning about the different body systems and plans to be a meteorologist when he grows up. "We are definitely interested in weather," Stepheni said of her kids.
School-time extracurricular activities for the twins include music. Caroline said she is a percussionist in the Simon Middle School Band "at the moment" and plans to keep playing at least until she's out of high school. She really likes to get out her drumsticks and play.
Evan is a member of the Simon Middle School Beginning Orchestra, playing viola. "It's one of the most underrated instruments," he said. "There are only three in each school."
The twins laughed aloud when their mom said they are alike in so many ways personality-wise, yet polar opposites in others. They both have a sense of humor. Evan is more talkative. Caroline is the more quiet of the pair.
"I'm blessed to have pretty cool kids," said Stepheni. "They're quirky, silly kids. We enjoy each other's company. We like to stay busy and have collective experiences."