31 May

Trusted cameraman celebrates 54 years at KARK

By Stefanie Brazile

A quiet presence behind the camera, Morsie Eagles is someone who KARK Channel 4 news anchors count-on during every broadcast. For 54 years he's been viewing life through a lens, a constant figure ensuring that live TV goes off without a hitch.

"A consummate professional, he knows everyone's job, what's expected of them, and when they need to deliver," said Bob Clausen, KARK Channel 4 news anchor. "That goes from anchors on down. If you're not making the grade, he'll quietly let you know. His words of advice have always been constructive and encouraging."

Eagles was raised in the farm community of England in Lonoke County. He watched TV at a neighbor's home and was fascinated. "I was always curious about how they worked," he said.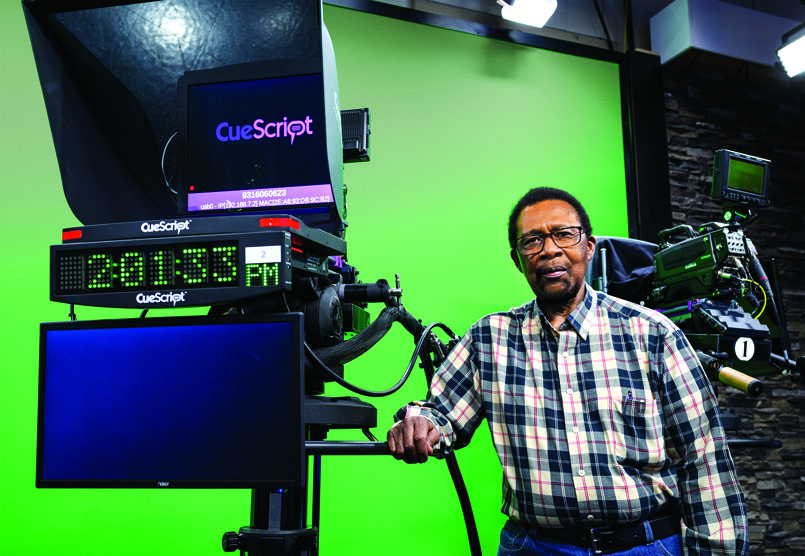 After graduation, he moved to Little Rock and worked for a lumber company. When a friend landed a job in TV, Eagles asked him to let him know when another position opened. After three years, he traded lumber for a job working the midnight to 8 a.m. shift. He didn't mind. More than five decades later, he still arrives at KARK, which also broadcasts Fox 16, by 2:30 a.m., even though his shift is 3:30 a.m. until the end of the noon broadcast. Eagles is now a Camera Executive and the Studio Floor Manager.
"I stayed here because I like the people I work with like Mallory [Brooks] and Bob Clausen," Eagles said. "I enjoy what I do!"
The KARK staff admires his work ethic and draws strength from his predictably calm and confident demeanor. "Morsie is by far one of my favorite people in the world. His smile is contagious, and he has the best heart," said KARK Channel 4 News Anchor Mallory Brooks. "I just love being around him.
"He doesn't miss a day of work for anything, and he has never been late. The boss actually had to ask him to take a holiday off because he's so dedicated. He is selfless, kind, humble and really is one of the best people you will be ever meet."
After starting in production, Eagles went on to film on-location, help build sets for commercials, splice film and edit audio. Even though he'll do whatever is asked of him, he doesn't like jobs where he is sitting. "My favorite is running a camera and being in the studio. I love meeting people when they are here to do interviews."
The veteran cameraman believes working in TV is not for everyone. He is mostly self-taught, and has trained many others. He said the challenges of live TV used to make him nervous, but he would start his day on his knees. "I would get on my knees every morning and night and ask God to direct me through all my activities and thank Him."
Brooks said, "Morsie's faith is so inspiring. He is a light to everyone he meets!"
Clausen has watched Eagles seemingly perform miracles on the set. "There have been times when, while anchoring, we have had complete meltdowns in the control room and in the studio, but the viewer never knew, because Morsie would wind up juggling so many balls, not dropping a single one," Clausen added.
Eagles said his sisters and family are proud of him. To commemorate 50 years of service to the stations, on June 19, 2018, a celebration was held in his honor and he received an award.