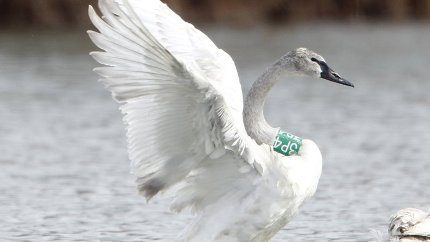 06 Jul 2017

Trumpeter Swan on duck stamp inspires information on species

An image of two trumpeter swans rising from the cattails was honored with production as the 2017 Junior Duck Stamp at the official first day of sale at Bass Pro Shops in Little Rock on June 23. The fantastic image grabbed the attention of judges at the Junior Duck Stamp Art Contest in April, just as the species has been fascinating Arkansans for decades.


Trumpeter swans were common migrants in Arkansas 150 years ago. However by 1900, trumpeter swans were almost completely eliminated from the continental United States. Captive breeding and release programs by the U.S. Fish and Wildlife Service and northern states, such as Ohio, Michigan, Iowa, Wisconsin and Minnesota, restored trumpeter swans to their breeding grounds. However without a parent swan experienced in migrating to southern wintering grounds, very few of the restored swans developed the ability to migrate south.


Magness Lake mystery


Very few records exist of wintering trumpeter swans in Arkansas that spent more than just a few days in the state until 1991 when three swans were reported on Magness Lake in Cleburne County. No one knows how the swans made their initial flight into Arkansas, but the birds had been marked and banded in Minnesota and returned each year, gaining a following of devoted wildlife watchers. By 1998, the flock returning to Magness Lake each winter had grown to 22 and contained primarily unmarked swans. Today, trumpeter swans can be found during winter on Magness Lake as well as on farm ponds and water storage ponds several miles away. In 2015, it was estimated that 400 trumpeter swans winter throughout ponds in Cleburne County.


Migration memory


The Arkansas Game and Fish Commission worked with the Iowa Department of Natural Resources in 2008-2010 to release 49 young trumpeter swans in Arkansas. The swans were released by the Arkansas Game and Fish Commission and the Iowa Department of Natural Resources at the Holla Bend National Wildlife Refuge along the Arkansas River, a few miles downstream from Dardanelle and in the Boxley Valley area of the Buffalo River from 2008-2010. Biologists hoped these young swans would return to both areas in winter and, within a few years, bring their families south.


The project's objective was not to establish a breeding population of Trumpeters in Arkansas but to create a memory of where they should go during the cold winter months when food is scarce on the breeding grounds.


Today, collared swans released as a part of this project are seen in the Arkansas River Valley along with their unmarked mates and their young. The project was successful in creating a population of trumpeters that would leave their breeding areas with their family groups, fly south to winter in Arkansas and return back north to breed, nest and raise another brood that would follow them south again to winter in The Natural State.


Swan identification


Trumpeter swans generally arrive in Arkansas by the third week of November and usually leave the state by the second week of February. At 25 to 30 pounds and having a wingspan of nearly 8 feet, trumpeter swans are the largest waterfowl in North America. By comparison, the giant subspecies of Canada goose living in Arkansas weighs in at only 12 pounds.


Three species of swans naturally occur in North America. The trumpeter swan and tundra swan are both native species. The mute swan is a Eurasian species that was introduced years ago and breeds in the wild in some areas. Captive-raised mute, black and trumpeter swans have been brought to Arkansas by pond owners in the recent past, but such importations and releases are illegal as the captive-reared swans can carry avian diseases that impact the health of native waterfowl, and outcompete them for resources with little or no predators to keep them in check.


The Trumpeter Swan Society has a swan identification page to help identify these majestic birds – http://www.trumpeterswansociety.org/swan-identification.html.


Finding swans in Arkansas


The established public viewing area is at Magness Lake, a small privately owned oxbow off the Little Red River, east of Heber Springs. Drive east on Arkansas Highway 110 from its intersection with Arkansas Highways 5 and 25 just east of Heber Springs. Go 3.9 miles from the intersection to Sovereign Grace Baptist Church, marked with a white sign. Turn left on Hays Road, a paved county road. Magness Lake is about a half-mile down this road, and a gravel parking area is at an S curve in the road. Please respect the fact that Magness Lake and the land around it is privately owned. Shelled corn is the only recommended feed for swans; bread and other feeds may harm them.


Chances of seeing numbers of the Trumpeter Swans at Magness Lake are best in late afternoons. During the day, they roam around in small groups, feeding in spots sometimes miles away. But they return to the lake before dark. A few of the swans usually hang around the lake during midday, too.


Trumpeter swans are also routinely seen during the winter on wetlands and crop fields along the Arkansas River from Morrilton to Clarksville and can often be observed on the Holla Bend NWR near Dardanelle. In northeast Arkansas, Trumpeter Swans are occasionally observed grazing farm fields near Albion outside of Searcy.