08 Mar 2023

Trojans down Bears in ninth

LITTLE ROCK — The University of Central Arkansas Bears walked in the winning run in the bottom of the ninth Tuesday at Gary Hogan Field in a 3-2 loss to the Little Rock Trojans in the first of three meetings in the annual "Governor's I-40 Showdown."


The game was knotted at 2-2 from the fourth inning, with both teams leaving runners on base over four scoreless innings. The Bears (5-7) stranded two runners in the eighth inning after Tanner Leonard led off with a single and Kolby Johnson singled to left field. In the top of the ninth, UCA got a lead-off walk from A.J. Mendolia but he would not get past second base.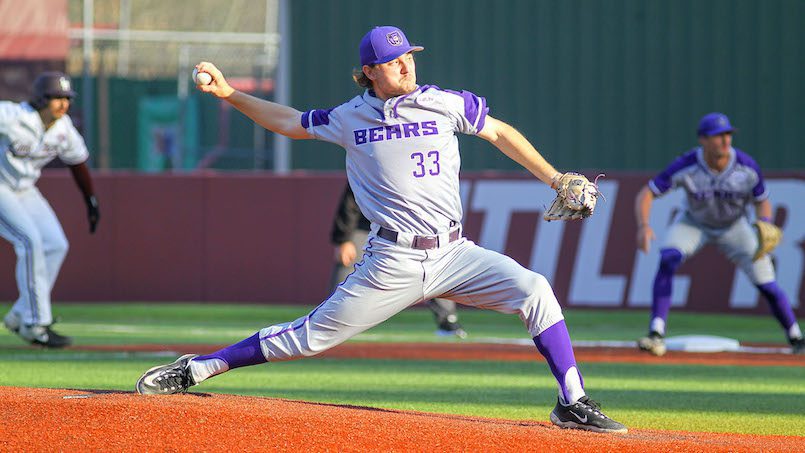 The Trojans, who had just five hits in the game, drew a lead-off walk in the ninth inning by Skyler Trevino off UCA reliever Oliver Laufman, who struck out a career-high six in 4.2 solid innings out of the bullpen. A passed ball moved him to second before Jake Wright also walked. Trevino went to third base on a wild pitch and the Bears intentionally walked Ty Rhoades to load the bases with no outs.

Sophomore Tate Busey came on in a nearly impossible situation, with bases loaded, no outs and a 1-0 count on Little Rock's Ben Harmon, who eventually drew the game-winning walk.

UCA fell behind 2-0 in the third inning when the Trojans got an RBI double by Alex Seguine and an RBI single by Tyler Williams against UCA starter Cade Fenton.

The Bears answered quickly in the next half inning when shortstop Mason King led off with a walk and went to second on Johnson's base hit to left field. Evan Hafley drew a walk before Mendolia shot a base hit to right field to tie it at 2-2. Mendolia went 2 for 2 with 2 runs batted in and a pair of walks. Johnson and Leonard both had two hits. Laufman allowed just two hits and one run while striking out six and walking three in his second appearance of the season.

UCA returns home this weekend to host the UT Martin Skyhawks in a three-game non-conference series, beginning at 6 p.m. Friday. Wednesday's scheduled game with Missouri State has been moved to April 26 at Bear Stadium.