08 Feb 2023

Tristan Cunningham – Riverview (501 Basketball Team 2023)

Following a successful season last year, which included a Class 5-3A conference and district title, Riverview dives into 2023 with motivation for more.

Led by junior guard Tristan "Tip" Cunningham, the much-improved Raiders eye the postseason as a legitimate threat to upset the top teams in Class 3A.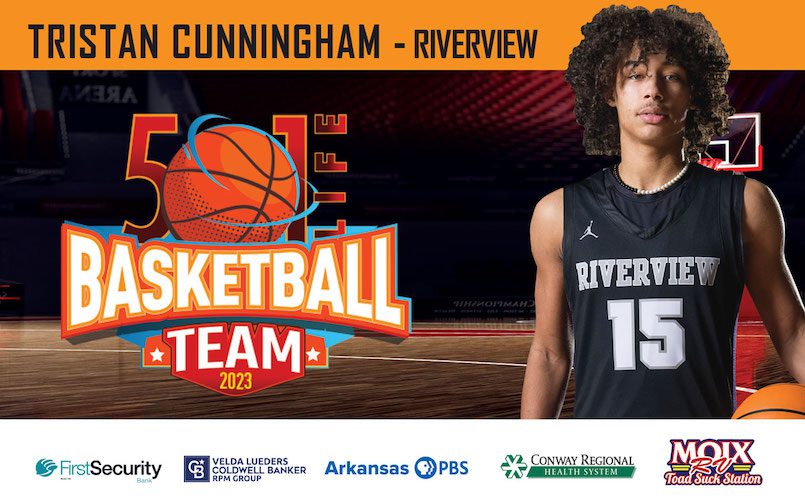 "Winning conference and district last year were some of my favorite basketball memories," Cunningham said. "We were one of the youngest teams in the state, and after a tough summer of ups and downs, we pulled it out together. My personal goal this season is to win regionals and state and receive a scholarship offer to play at the next level."
A vocal encourager with a great work ethic, Cunningham has set the bar high as a leader on and off the court. "Tristan exhibits great leadership on the floor," Riverview head coach Kirklan Pettis said. "He does well at getting his teammates involved. He has improved a lot this offseason, and we have high expectations for him to be one of our leading scorers again this year."
"Tip can drive to the basket and hit a three-pointer," said Raiders' play-by-play announcer Shane Smith. "He hustles on defense and isn't afraid to get in the paint for a rebound." Unafraid of a challenge, Cunningham is committed to fighting to the finish for his team.
"Basketball has taught me to hold my head high in the face of adversity," Cunningham said. "I want to be remembered as a winner with a dog mentality."