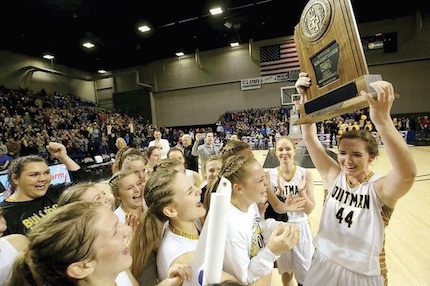 24 Jul 2017

Triple threat: Quitman's three titles make school history

by Mark Oliver


It's been a year to remember for the town of Quitman.


For years, the idea of their team winning a state championship trophy was merely a dream. This year, however, the Lady Bulldogs impressively achieved that dream — earning state championship victories in cross country, girls' basketball and track and field.


"For many years, the reputation of Quitman High School has been that we can compete, but we can't win the big ones," said Coach Tim Hooten. "We might sneak up and beat you from time to time, but we don't have what it takes to win the big ones. That's something I've always wanted to change since I walked in the door here."


Committed to bringing change to Quitman, Hooten — who coaches track and field, cross country and girls' basketball — sought to strengthen his three teams to give them a chance at making school history.


"As a coach, my philosophy is that you are an athlete first and a basketball player or a runner second," Hooten said. "We had to get that elephant out of the room. We had to become better athletes. All season long, I've tried to teach these girls what they must do to get the job done. They have to work harder than the person in front of them if they want to be successful."
Cross country

"I was hired to coach basketball," Hooten said. "When I first came to Quitman, I thought that we had a problem with athleticism. I wanted our girls to get stronger — physically and mentally — and cross country does that. Initially, there was some pushback there, but the girls soon discovered the benefits of running and bought in to what we were doing."

Off to the races, the Lady Bulldogs quickly hit their stride. Led by a talented freshman squad, the Lady Bulldogs soon received the boost they needed to compete at a higher level.

"While our senior high basketball girls were running well, our junior high team was winning almost every meet they went to," Hooten said. "By moving my freshmen up to the varsity team, I knew that we had a shot at winning it all. During the district meet at Magazine, one of our girls set a new course record. We performed very well and went on to win the junior high division."

With confidence on their side, the Lady Bulldogs stormed into the state meet as the top-ranked team and quickly made school history.

"At the state meet, the girls saw the competition around them and knew how hard they would have to run to win," Hooten said. "Almost every one of our girls set a personal record to win the state meet. For the first time since I arrived at Quitman, I saw a group of girls that felt confident enough to win the big one, and they became the first group in school history to win a state championship."
Girls' basketball

Finally, a championship trophy had come to Quitman. With the win, the Lady Bulldogs had found the confidence they needed to be successful on the court as well.

"We weren't expecting to win a cross country state title," Hooten said. "We always thought our first title would be in girls' basketball. From a regionals berth my first year to a semifinals appearance last year, our basketball team has gotten better each year I've been here."

After reaching the semifinals the previous year, Quitman amassed an impressive 33-3 record this season, knocking off many tough opponents en route to the Class 2A state tournament.

"One lesson we learned from the previous year was to not overlook anyone," Hooten said. "Last year, we looked past Hector because we had beaten them three times that season. However, they found a way to come back and end our hopes of a championship victory. It was a hard loss to swallow. All season long, we knew we wanted to get back to the state tournament and get another chance at the finals."

In the state tournament, the Lady Bulldogs kept winning, defeating talented Carlisle and Earle teams to reach the state championship game for the first time in school history. To sweeten the deal, the Lady Bulldogs would have an opportunity to face off against Hector for all the marbles.

"Going into the title game, we were confident about the rematch with Hector," Hooten said. "We had already played Hector twice at that point — defeating them in the district championship and regional game by 30 and 36 respectively. We went into the game with a lot of confidence because we knew that we had beaten them soundly twice already, but also knew what they were capable of."

Quitman's confidence paid off — downing their rival, 45-22, to claim its second crown of the season.
Track and field

"Before the school year started, the school asked me if I would be willing to give up coaching softball to coach track and field," Hooten said. "The problem was that we had no facility — no track, no hurdles, no long jump pit, no pole vault. We had nothing to have a track program with."

With the school in need, the community of Quitman stepped up to help.

"The community came up with the money for us to get the equipment we needed," Hooten said. "It was extremely generous, and we were all very thankful to have their support."

In their first track meet of the year, Quitman found a way to win big.

"Winning our first ever track meet was big," Hooten said. "It was a huge turning point for us as a program. The kids got excited about it and continued to get better after that."

Although the Lady Bulldogs didn't win another track meet until the district tournament, the team improved greatly by participating in events for schools from larger classifications. As the year went on, the competition proved to be enough to propel the team to the state tournament.

"Going into the state tournament, we knew that we could compete," Hooten said. "We had the top-ranked 4×800 team, and our girls felt confident in their abilities. Did we know that we could win it all? No. I was just hoping for our girls to be competitive. Cross country and track and field are two different beasts. Our field events were weak, but I knew we could do well in the running events."

During the state tournament, Quitman won multiple events — including the 4×800 and the open 400. In the final event, the 4×400, the Lady Bulldogs beat their best time by 15 seconds, winning the event and cementing their third and final state championship of the year.

"Simply put, it was one of the most unexpected, exciting trophies I've ever had," Hooten said. "Before I came to Arkansas, I had never coached girls before. Six years ago, if someone told me that I'd be coaching girls, I'd tell them that they were crazy. I've really enjoyed it, though. All of Quitman's success this year came from these great kids. I didn't do the work — they did. Every one of my girls gave me their best performances of the year. I'm very proud of each of them."

In a year filled with historic wins, Hooten says the Lady Bulldogs' biggest accomplishment was bringing victory home to a community that had never tasted it.

"When I came to Quitman four years ago, my goal was to hang a banner here," Hooten said. "Over the past 40 years, I've coached in three different states, and this has been one of the most supportive communities that I've ever been in. This community spent $25,000 to help start our track and field program this year. Two years ago, this community built a beautiful new basketball gym, which we've already hosted a state tournament in. Because of this community, not one girl will pay for their state championship ring in any of the three title sports this year. That's incredible."

With their mission accomplished, the Lady Bulldogs look ahead to the future of Quitman athletics.

"I'm not naïve," Hooten said. "I know that a coach has a shelf life. You're only as good as your last win, regardless of how many titles you have. After 40 years, right now would be a good time to hang it up, but I still have a daughter in high school that I can't do that to. Our next step will be to try to do it again next year. We'll go back to work and see if we can run three more titles again next year. Let's do it again."