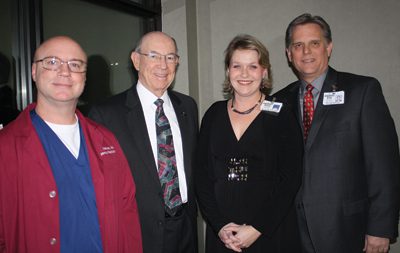 22 Dec 2009

Tribute Tree lighting

Posted at 10:09 PMh

in

News

Each year, individuals purchase a light, ornament or angel in honor or memory of family members or any special people in their lives by giving to the Conway Regional Health Foundation. Proceeds from this year were directed toward academic scholarships supported by the health foundation for area students.

Jim Lambert, president and CEO of the Conway Regional Health System, welcomed guests and gave a brief history of the Tribute Tree. Charles Nabholz, board chairman of the Conway Regional Health Foundation, announced the endowed lights.

Dr. Timothy Calicott, an emergency physician at Conway Regional, shared comments about the late Jon Scott McMahan and the scholarship that has been created in his name. McMahan's family – his wife Lana and their children Adam and Ashely – were selected to light the tree this year.

The health foundation oversees a scholarship that pays tribute to McMahan, a division fire chief with the Conway Fire Department and a long-time EMT in Conway. The scholarship is designed for students who are pursuing a career in an emergency medical services related career field.

The foundation has awarded more than $110,000 in scholarships to area students through donations from the medical community and the general public since its inception in 1996.

The Jim Stone Elementary Choir, under the direction of Mandy McMoy, provided holiday music.