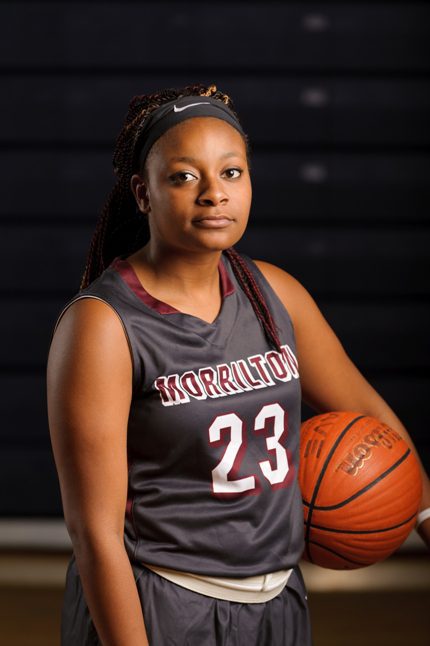 10 Feb

Trezvant a 'pleasure to coach'

by Levi Gilbert


Sometimes a team's record just doesn't tell the whole story. There's more to a team than just wins and losses, and behind every team's group of players are individual stories to be told. Every jersey represents more than an athlete.


That's true for Morrilton's Mariah Trezvant.


"Mariah almost always has a smile on her face," said Carin McNabb, the Morrilton girls head basketball coach.


Trezvant, a senior forward for Morrilton, was selected to this year's 501 Basketball Team — 35 players representing the best the 501 has to offer both on and off the court. She was nominated by McNabb.


"Mariah plays hard on every play," McNabb wrote in her nomination. "She encourages her teammates. Last year, she came off the bench and gave us a boost in the post. This year, she has been asked to give her best and do whatever her team needs her to do."


It's been a tough season for the senior. Her Lady Devil Dogs are 5-10 on the year and 0-8 in 5A West conference play. But despite the adversity, Trezvant has continued to play hard for Morrilton, averaging 10 points and five rebounds per game.


Trezvant got a late start with basketball; she's only been playing competitively for the last six years. She was drawn to the sport before she even stepped onto the court. "The love of the game made me want to play," she said.


Trezvant doesn't shy away from a challenge. She is often faced with a little adversity every time she steps on the court. "I have to face being the smallest post," she said. "I'm a very hard worker and will work hard to the last buzzer."


As the season winds down, Trezvant says the Lady Devil Dogs still have much to play for —one thing is playing spoiler for some of the other teams in the 5A West.


"I look forward to playing Vilonia because they're No. 1," Trezvant said. "You won't know how good you are until you play the best."


Off the court, Trezvant pours herself into Morrilton High and her family and friends.


"She is a member of the dance team and active in her church," McNabb said. "She is willing to help her classmates at any time. She's a great kid and a pleasure to coach."


Trezvant and the Lady Devil Dogs play host to Maumelle at 6 p.m. Friday.