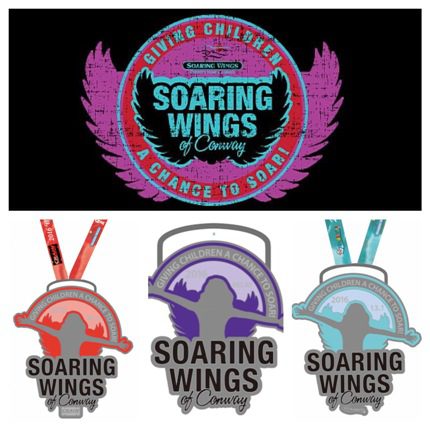 13 Jul

Training kicks off for Soaring Wings

The Soaring Wings of Conway First Mile Training Program Kickoff last weekend was a success despite thunderstorms and rain.


"Nearly 50 individuals came out to log their first miles and get the first glimpse of the medals for this year," said co-race director Amanda Castillo, adding that individuals ran either a 5K or 10K.


This is the second year for First Security Bank to sponsor the training.


The 2016 medals reflect the mission of Soaring Wings to help children in need. "This year, the design brings a focus to the cause – Soaring Wings Ranch, a Christ-centered ranch for children," Amanda said. "The image is of an actual child that soared during her time at the ranch. Your involvement in Soaring Wings of Conway makes a real difference in children's lives!"


Training for the marathon begins Saturday, July 16. The group will meet at 6 a.m. in the south parking lot of Conway Regional Health & Fitness Center. "Everyone is welcome! We are running seven or eight miles this weekend. Half marathon training begins Saturday, Aug. 13."


To download a schedule, visit swmarathon.com/training-info/.


Registration is open for the Soaring Wings Marathon and Half Marathon, which will take place 7 a.m. Saturday, Oct. 29, in Conway. The event features a USATF-certified course, which begins and ends at the Conway McGee Center, the location for the half marathon the last eight years.

The Presenting Sponsor for the marathon weekend, which includes the marathon and expo, is Crain Automotive. TLC Pediatrics is the sponsor for the half marathon and Kids Run. 501 LIFE is the official media sponsor.

Castillo and Marla Watson are co-directing the race.

Proceeds support Soaring Wings Ranch, a Christ-centered family and home that provides security, love and hope to children who need a chance. The staff meets each child where they are and challenges them to develop spiritually, intellectually, socially, emotionally and physically.

Soaring Wings is located on 195 acres in the Holland community, north of Conway. The half marathon has represented the single greatest fundraising event for the ranch.

The slogan for the event and the ranch is "Giving Children A Chance to Soar!"

For more information including the course description or to register, visit swmarathon.com.