19 Dec 2016

Townsell recognized for his service

Posted at 3:31 PMh

in

News

Story and photos
by Sonja J. Keith


Friends and family gathered last week to celebrate the service of Conway Mayor Tab Townsell who is wrapping up his last term in office.


A graduate of Conway High School and the University of Central Arkansas, Townsell became mayor in 1999 and has served 18 years. He opted not to seek another term and was selected earlier this year from a field of more than 50 to become executive director for Metroplan, the Central Arkansas transportation planning agency. Bart Castleberry will be sworn in as mayor Jan. 1.


Alderman Shelia Isby, who joined the Conway City Council when Townsell became mayor, served as the emcee for the event. "Tab is a man who has a true love for this city," she said, adding that she researched quotes to describe the mayor. "The thing that came to mind was, 'Great men don't strive for greatness, they simply do great works (Ifeanyi Enoch Onuoha).'


"Tab that is exactly what you have done."


The event included several presentations:

State Sen. Jason Rapert and Rep. Steve Magie presented a legislative citation to Townsell. The citation described Townsell's roots as running deep in Conway and listed some of the accomplishments that occurred while he was mayor, including downtown revitalization, a new Conway airport, street improvements and parks expansion.

"Thank you for all your years of service," Magie said. "You've been a tremendous asset to the City of Conway and I know in your future, at Metroplan, you will be a tremendous asset to all of us in Central Arkansas."

Alderman Shelley Mehl presented Townsell with a plaque from the City of Conway in recognition of his service from 1999 through 2016.

Don Zimmerman, executive director of the Arkansas Municipal League, presented Townsell with a certificate naming him an Honorary Life Member in the municipal league.

"I've always thought of Tab as a deep thinker and having a visionary mind and a planner's mind," he said, adding that he doesn't think anyone would be more perfect for the director's job at Metroplan. "The good thing for Conway is he's still going to be working for you and all of Central Arkansas."

Alderman David Grimes unveiled a plaque and announced the establishment of the Mayor Tab Townsell Scholarship for Public Service Fund at the University of Central Arkansas. Created by colleagues, supporters and friends, the scholarship will be presented to students majoring in public administration or political science. Grimes said the scholarship honors Townsell's life of public service, past, present and future.

Jack Bell, chief of staff in the mayor's office, presented Townsell with an original oil painting by Tracee Gentry-Matthews of Little Rock. The artwork was commissioned to represent various accomplishments that had taken place during Townsell's service. Among the items featured were the Christmas tree and Rogers Plaza in Downtown Conway, city baseball and softball parks, the new airport and police department and a round-about.

Also speaking during the reception were Faulkner County Judge Jim Baker, who cited the joint city-county projects made possible during Townsell's time in office.

Tom Courtway, who said the reception represented his last official speech as the president of the University of Central Arkansas, also spoke. "I view Mayor Townsell as a transformational leader," Courtway said. "What that means to me is someone who challenges us, who thinks, who dreams, who does some things sometimes that we maybe question, but who is always thinking about what is best for his city and his constituents and is a strong leader. That's what people who have transformed our country have done.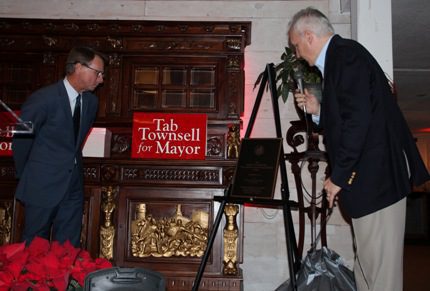 "They have been aggressive and they have been visionaries. I submit to you it is applicable to this man, who can see further down the road and over the horizon than I can. That's what I've always admired about Mayor Townsell."

Courtway said during his last semester at UCA, he would give away a purple tie each week. In expressing his appreciation to Townsell, Courtway removed his purple tie and presented it to the mayor.

During his remarks, Townsell expressed his appreciation to those in attendance. "Thank you for supporting me throughout my 18 years as mayor. Actually, some of your support goes prior to that," he said.

Townsell thanked a long list of individuals who had an impact on his life and his service to the people of Conway. In particular, he cited Conway's outstanding city department heads and assured those present that they were in good hands. He also cited the county judges he worked with over the years. Townsell also recognized the aldermen who worked with him on the city council as well as those employees who served in the mayor's office.

In closing, Townsell thanked his parents, Bob and Becky Townsell, his brother, Todd, and other members of his family. He also expressed his appreciation to his fiancée, Mary Jo Heye, and her family for their support.

Fighting tears, Townsell recognized "my little girl," Riley. "She came seven years after I was first sworn in. She has been a blessing to my life and in many instances, for who I've always been doing my job for. I love you little girl. This Conway will one day be yours, too. We do it for the next generation."

Townsell expressed his appreciation for the trust placed in him to serve the people of Conway. "It has been my life's work. No matter what else comes, this has been my life's work. I'm proud to be a citizen of Conway."